Tories will send parents reminders to get their child vaccinated
27 November 2019, 08:02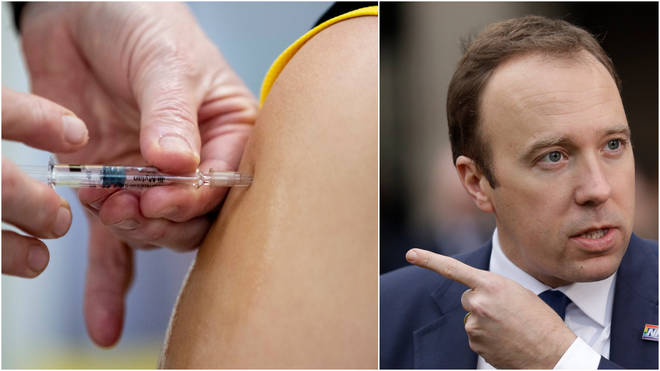 Every family will receive a reminder from their GP practice that it is time for their child's next vaccination if the Tories win the General Election.
The party said the scheme will "help reduce the number of delays in vaccinations and halt the spread of infectious but preventable diseases."
Figures released in April show more than half a million children in the UK weren't vaccinated against measles over an eight-year period.
The figures from Unicef coincide with a sharp rise in cases of the disease. Last year, the number trebled in England to almost 1,000.
In August, the UK was one of four European countries lose measles-free status.
For the first time since World Health Organisation records began in 2012, Albania, the Czech Republic, Greece and the UK lost their status as having eliminated measles from the population.
The WHO has said misinformation about vaccines, particularly when shared on social media, is as contagious and dangerous as the diseases it helps to spread.
Recent statistics show that just 87% of children are getting their second dose of the MMR jab, which has likely contributed to the spread of measles.
Previously, Health Secretary Matt Hanock told LBC that people who spread lies about vaccinations have "got blood on their hands."
The proposed scheme a majority Conservative government would bring in would be text message-based, with a range of digital reminders, and the option for postal reminders for those without a digital medical record.
The move will come as part of a wider Vaccination Strategy, which the Tories plan to launch within the first 30 days of the new administration as part of a bid to regain the UK's 'measles-free' status.
It comes on top of the Conservative manifesto plans to deliver 50 million more appointments in GP surgeries by boosting the number of primary care staff – which will improve families' access to nurses and GPs to get their children vaccinated.
Health Secretary Matt Hancock said the reminder scheme will ensure more children are protected.
He said: "The science is clear: vaccines save lives, and ensuring that children are properly immunised is one of the most important things any parent can do for their children.
"So we will introduce a national vaccination reminder system, to make sure as many children as possible are vaccinated.
"Jeremy Corbyn is not only trying to waste 2020 having two referendums – the fact that he doesn't appear to accept that vaccines are a safe way to protect children from preventable disease shows he will never do what is necessary to regain our measles-free status as a country."
Labour have promised to invest £35 million a year for improving vaccination uptake and the party said they will recruit an extra 4,800 health visitors and school nurses.