Former Prime Ministers slam Boris Johnson at anti-Brexit rally
6 December 2019, 19:45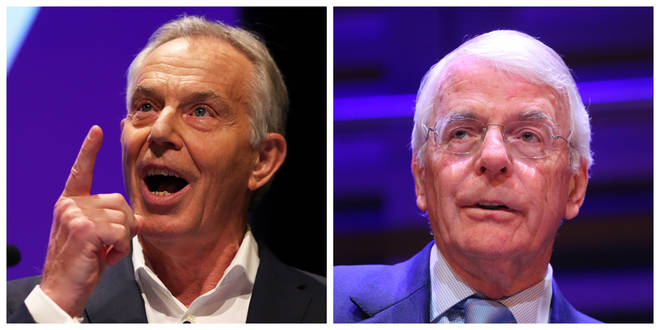 Ex-Prime Ministers Sir John Major and Tony Blair put aside their political differences and united over their concerns about Brexit at an event in London on Friday.
The two politicians shared a stage in order to speak out against Boris Johnson's Conservatives and Brexit.
Sir John Major told the audience that Brexit will "hurt those most who have least" and could lead to the break up of the UK.
Speaking at a 'Stop the Brexit Landslide' event, the former Tory Prime Minister said: "My message to you this evening is very clear. Don't allow your future to be shaped by others with no input from yourself.
"Choose the future that you believe in and who will represent your own views and aspirations in the next parliament."
He continued: "Tribal loyalty has its place, it can be good and honourable but sometimes you need to vote with your head and your heart."
The comments come after he urged voters to back ex-Tory rebels David Gauke, Dominic Grieve and Anne Milton over their Conservative counterparts at the general election.
All three are now standing as Independent candidates in the same constituencies they won in 2017.
Speaking about the ex-Tory rebels, Sir John stated: "Let me make one thing crystal clear, none of them left the Conservative Party, the Conservative Party left them.
"Were I a resident in their constituency I would vote for them."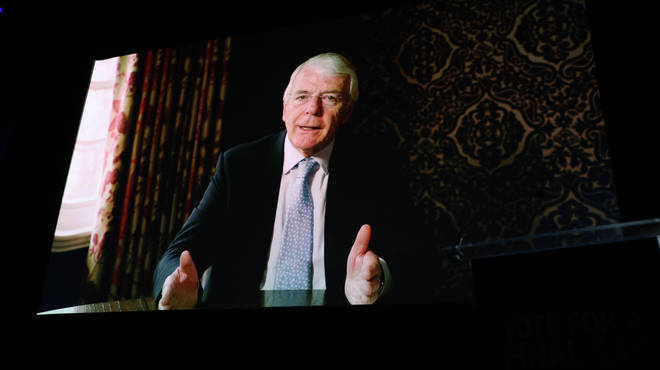 Ex-Labour Prime Minister Tony Blair told the crowd: "Here are five words I never thought I would say: Thank God for John Major.
"To John, to Michael Heseltine, for years I stood against you, tonight, it is an honour to stand with you.
"And to David Gauke and many others, good, smart, capable people across the political spectrum prepared to speak out, to put country before party and principle before position. Your courage is an example."
He also urged voters to "choose wisely" in the general election.
Speaking about Prime Minister Boris Johnson, Mr Blair said he "does not deserve" a majority.
He added: "Do not give Boris Johnson a majority, he does not deserve it. This Conservative Party which now expels the likes of Michael Heseltine, disowns the statesmanship of John Major.
"A party whose chancellor as of July this year is now exiled in the wilderness for the temerity to say what he knows to be true, namely that a no-deal Brexit is a risk no responsible government would take, such a Conservative Party does not deserve to govern unchecked and the country would not be wise to let them.
"Some groan at the idea of a hung parliament. But better a parliament that's hung for want of a majority than a country hung for want of leadership."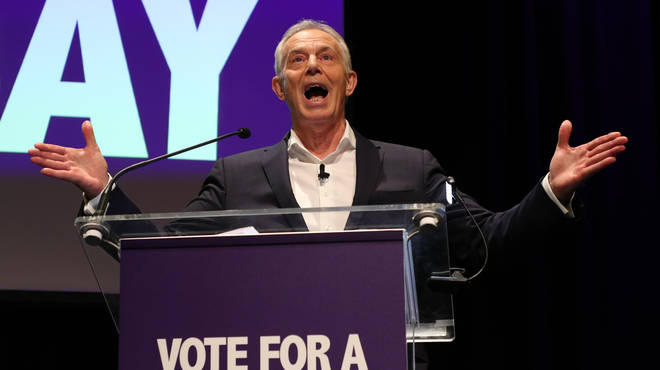 Addressing the issue of Brexit, Mr Blair said: "When John Major and I warned the Irish border would create a dilemma between keeping the Good Friday Agreement and undermining it, they derided us, promising the Irish cake would be had and eaten.
"And now the backstop is a front stop, we have not one border but two and the Democratic Unionists are prime witnesses to the dangers of trusting Boris Johnson."
He also admitted he would still vote Labour at the general election but that the public should back "the best candidates".
The former Prime Minister said: "There are great Labour candidates who deserve wholehearted support. I am voting Labour. But let me put it this way. If you look, constituency by constituency, you will know the best candidates to back. Back them.
"I know this election is horrible. It's like finding your way through a maze where at every turn you find something shocking."
He added: "Not in my lifetime and maybe never again in yours has there been such a choice of such moment."