Nicky Morgan keeps role as Culture Secretary despite quitting as MP
16 December 2019, 18:32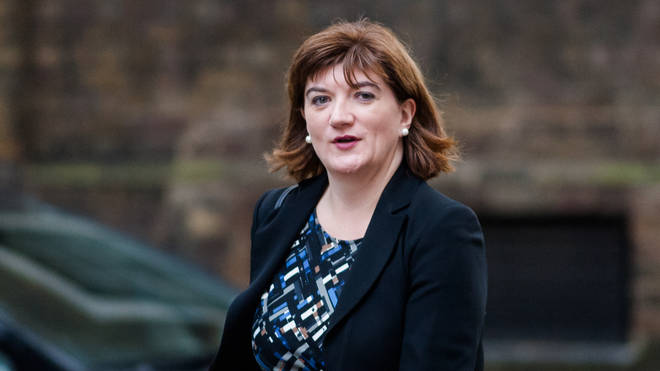 Nicky Morgan will keep her position in the Cabinet as Culture Secretary despite stepping down as an MP, Downing Street has said.
Instead, Ms Morgan has been given a life peerage in the House of Lords and will serve the party from there.
Ms Morgan had been the MP for Loughborough since 2010, but announced in October that she would be standing down at the general election, citing abuse and the impact being an MP had on her family life.
In a letter to the local Tory association at the time, she wrote: "After nearly a decade as Loughborough's MP and over 15 years as a local campaigner here I have made the very difficult decision that I can't commit to another 5 year term and now is the time for me to stand aside and be at home far more."
She continued to speak for the Government during the campaign.
Reports suggested the Remainer, who had represented Loughborough for the Conservatives since 2010, will only keep the job temporarily until a wider reshuffle early next year.
Well it turns out that leaving the Cabinet is harder than leaving the EU! Am delighted to continue as @DCMS Secretary of State as the PM focuses on delivering our mandate in the vital first weeks of this new Government

— Nicky Morgan (@NickyMorgan01) December 16, 2019
Ms Morgan congratulated herself on Twitter, saying: "Well it turns out that leaving the Cabinet is harder than leaving the EU!
"Am delighted to continue as Culture Secretary as the PM focuses on delivering our mandate in the vital first weeks of this new Government."
Her appointment to the Cabinet as an un-elected Baroness has drawn criticism from some in the Commons.
Responding to the announcement, Labour MP Chris Bryant and former shadow Culture secretary tweeted: "It stinks. You abandon your constituents, eschew the tough work of representing a constituency but remain in the Cabinet.
"That really is two fingers up to democracy."
During her time in government, she has served in a number of roles, including education secretary and Minister for Women and Equalities.
But her reign as education secretary, cut short under Theresa May, was remembered for a failure to adequately address the big issues – the crippling workload, low pay and perceived poor conditions for teachers.
Her ill-fated academisation programme was particularly unpopular with teachers, parents and even non-education unions.
It led to strike action across the country, the culmination of teachers and their supporters simply saying "enough is enough".
Ms Morgan eventually back-pedalled on academy schools, relaxing the initial commitment and taking the pressure off 17,000 state schools.
Prime Minister Boris Johnson is expected to make a number of changes to his Cabinet since storming to a huge majority in the general election.
Mr Johnson appointed Simon Hart as the Welsh Secretary in a mini-reshuffle in the wake of his general election triumph.
The MP for Carmarthen West and South Pembrokeshire replaces Alan Cairns, who was forced to stand down over his links to an aide accused of sabotaging a rape trial.
Mr Hart was previously a junior minister at the Cabinet Office and his promotion marks his first entry to the cabinet.
Mr Johnson is expected to carry out a wider re-shuffle of his top team in February, with reports that up to a third of his top team could go.
More to follow...