Nigel Farage would consider rebranding the Brexit Party if UK 'gets a bad deal'
5 December 2019, 21:50
Nigel Farage has told LBC that he is considering rebranding his party if the UK "gets a bad Brexit deal."
The Leave campaigner said his party could be renamed the "Reform Party" post-Brexit after also throwing his support behind abolishing the House of Lords.
Speaking on LBC Mr Farage said: "I'm minded that if we get a bad Brexit with Boris, I'm minded to rebrand it, if you like, as the Reform Party.
"My view is this, my view is that Brexit is the first step of much needed fundamental political change in this country," he continued.
"I think genuine reform of our voting system, the appalling abuse of postal votes, the nonsense and disgrace that is the House of Lords, the need for a written constitution."
The Brexit Party leader also told LBC: "I think it depends what Boris does. I mean Boris is going to win, let's not pretend, Boris is going to win."
When challenged over whether voters care about a House of Lords, Mr Farage told Iain Dale: "You know what I dare you, come to a working class community next week with me and see me say I want the House of Lords abolished.
"They go nuts for it."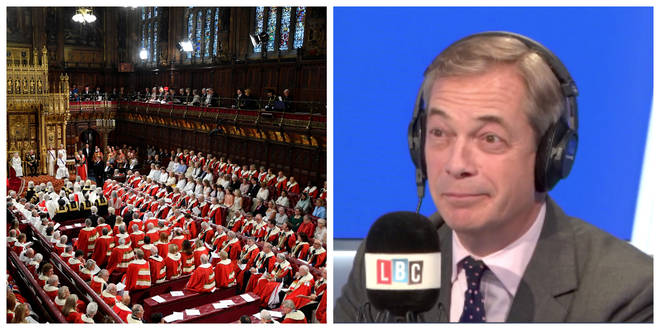 It comes after four Brexit Party MEPs quit the party on Thursday and urged voters to back Boris Johnson.
The group wrote a joint letter to Mr Farage notifying him they would be resigning the party whip.
A video featuring the four former Brexit Party MEPs said: "We joined Nigel Farage, one of the greatest campaigners of our time, and our success in the European elections with the Brexit Party changed the course of history for good."
John Longworth, Lance Forman, Lucy Harris and Annunziata Rees-Mogg will now all sit as independent MEPs.
A spokesman said: "We note that one of the MEPs is the sister of a Cabinet Minister, another has a partner who works in the office of the same Cabinet Minister and yet another is a personal friend of both Boris Johnson and Michael Gove.
"In the case of John Longworth, who was for years the firmest advocate of WTO withdrawal that we have ever met, he underwent a metamorphosis into being a supporter of the new EU treaty following two days of meetings in London. We hope that Mr Longworth is well rewarded for his actions."