Nigel Farage Joins LBC With Brand New Nightly Show
5 January 2017, 09:20 | Updated: 18 November 2019, 11:36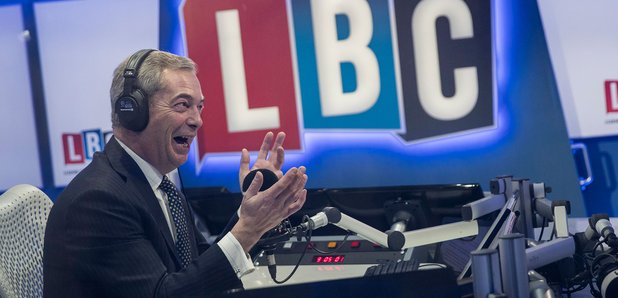 Nigel Farage is presenting his own brand new nightly show on LBC - and it all starts on Monday.
Nigel Farage is joining LBC, the home of political debate, to present a brand new weeknight programme starting on Monday 9th January.

Packed into 60 minutes, The Nigel Farage Show will be full of opinions, callers and reaction to the biggest stories of the day, as well as Farage's nightly Final Thought.
Broadcast live from 7pm, Monday to Thursday, he will present the show from LBC's studios in London and on the road from across the UK, Europe and the USA as he invites listeners to share their views on the issues that will shape their lives for years to come.

Ahead of the triggering of Article 50 and the inauguration of President Elect Trump, Farage will bring his inside knowledge, experience and grasp of world politics to LBC at a pivotal time in our history.

With informed opinion, appointment-to-listen shows and intelligent debate, LBC is the only radio station to give its audience direct access to high profile political figures. Farage joins an impressive line-up of presenters including Nick Ferrari, James O'Brien, Shelagh Fogarty, Iain Dale, Maajid Nawaz and Matt Frei, as the station celebrates its highest ever audience figures with 1.8 million people tuning in every week.

He has already proven to be a popular presenter on LBC, having stood in on a number of programmes.
Nigel Farage said: "If 2016 was exciting, then this year could be tumultuous with President Trump, Article 50, elections all over Europe and maybe a Eurozone crash. I can't wait to start my daily show on LBC and I invite listeners to agree with me or challenge me and together we can lead Britain's conversation."

James Rea, LBC's managing editor, said: "With Brexit and the inauguration of President Elect Trump, Nigel Farage is the man at the centre of the two biggest stories this year. He is a powerful communicator and has proved himself as a natural broadcaster. With his new nightly show, we look forward to him joining the LBC team next week."