'Your Daddy Is A Horrible Person': Protesters Ambush Jacob Rees-Mogg's Young Family
12 September 2018, 15:31 | Updated: 12 September 2018, 17:13
'Class' campaigners have been criticised after ranting at Jacob Rees-Mogg's children, telling his six-year-old that his dad was a "horrible person".
The shocking outburst happened last night as activists from Class War demonstrated outside the Conservative MP's house.
The three youngsters looked stunned as they faced the tirade, while Mr Rees-Mogg and his wife tried to usher them inside.
However, they heard the rant in full as protester Ian Bone demanded to know how much their long-standing nanny Victoria Crook was paid. He yelled: "Daddy won't say how much he pays your nanny, his nanny who looks after you. Daddy doesn't pay her very much.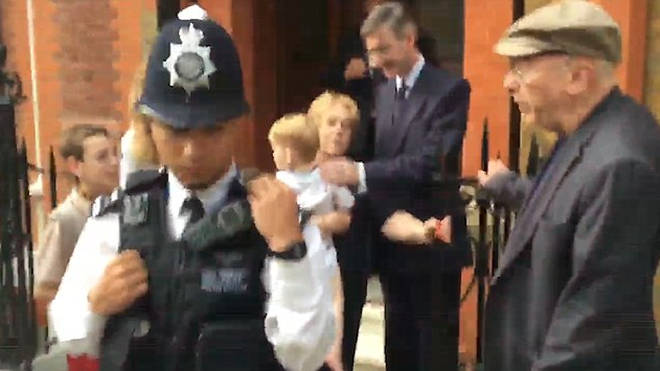 "Daddy says the minimum wage doesn't count for anything, or the London minimum wage.
"Your daddy won't answer the question.
"Your daddy is a totally horrible person. A lot of people don't like your daddy, you know that. No he's probably not told you about that.
"A lot of people hate him.
Class War filmed the clash and uploaded it to their Facebook page.
Responding to the incident, Mr Rees-Mogg told Eddie Mair: "I wouldn't get too excited about it. It was a few anarchists who turned up and it wasn't very well organised.
"It wasn't terribly serious.
"We're a free country, they weren't violent, they aren't admirers of mine.
"I'm in public life and not everyone is going to like me that's a reality of public life."