Boris Johnson Culls Ministers After Becoming Prime Minister
24 July 2019, 14:02 | Updated: 24 July 2019, 21:21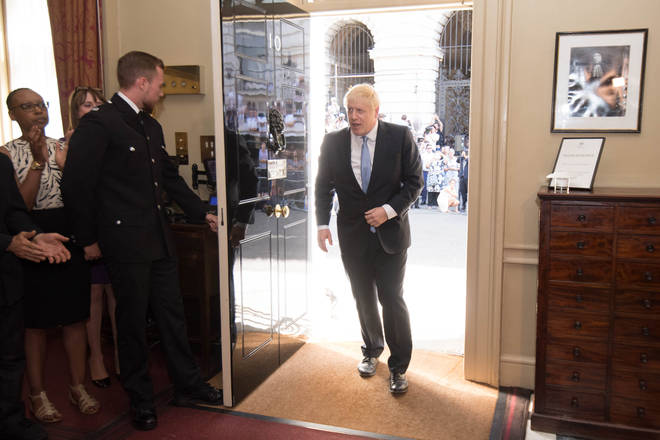 Before Boris Johnson takes office several Ministers loyal to Theresa May have resigned.
Jeremy Hunt is leaving the Cabinet and his position as Foreign Secretary to return to the backbenches.
1/4 I would have been honoured to carry on my work at the FCO but understand the need for a new PM to choose his team. BJ kindly offered me another role but after 9 yrs in Cabinet & over 300 cab mtgs now is the time to return 2 backbenches from where PM will have my full support

— Jeremy Hunt (@Jeremy_Hunt) July 24, 2019
Leader of the House of Commons Mel Stride is returning to the backbenches.
Immigration Minister Caroline Nokes has left the Cabinet.
Secretary of State for Scotland David Mundell has left the Cabinet.
Disappointed but not surprised to be leaving the Scotland Office after 9 years. Will, of course, support the new Government, but as I said to PM this afternoon I will also hold him to account on his commitments to the Union. Hope there's still room on the backbenches! 🏴󠁧󠁢󠁳󠁣󠁴󠁿🇬🇧

— David Mundell (@DavidMundellDCT) July 24, 2019
Secretary of State for Housing James Brokenshire has resigned from his post.
After 13 years service on the front bench including 9 in Government will be heading to the backbenches. Has been a huge privilege to serve, but looking forward to being released from collective responsibility and campaigning on issues that matter to me and my constituents.

— James Brokenshire (@JBrokenshire) July 24, 2019
Education Secretary Damian Hinds has resigned, saying it has been "the greatest privilege" to work for the Department of Education.
It has been the greatest privilege to serve as Education Secretary. Thank you to the brilliant team at @educationgovuk. And thank you to everyone working in education and children's care, for all you do. I look forward to supporting the government from the backbenches.

— Damian Hinds (@DamianHinds) July 24, 2019
Transport Secretary Chris Grayling has said he is leaving the government "at his own request".
Liam Fox has resigned and wrote a series of tweets saying he is proud to have served as Secretary of State for International Trade for the last three years.
(2/4) I am proud to have worked with a tremendously talented team @tradegovuk to boost trade & investment and prepare for Brexit.

— Dr Liam Fox MP (@LiamFox) July 24, 2019
Business Secretary Greg Clark resigned and tweeted that "it has been an honour to serve the country" in his role for the last three years.
Secretary of State for Defence Penny Mordaunt has tweeted that she is "heading to the backbenches" after 85 days in her role in the Ministry of Defence.
I'm heading to the backbenches from where the PM will have my full support, as will my successors at @DefenceHQ & @WomenEqualities
Thank you to everyone who's helped me get things done, especially our Armed Forces and civilians in defence for the last 85 days. We achieved much🇬🇧

— Penny Mordaunt MP (@PennyMordaunt) July 24, 2019
De facto Deputy Prime Minister David Roy Lidington has said after 20 years on the front bench he has decided to resign. He said on social media that he would quit when Theresa May offered her resignation to the Queen.
A source has confirmed Justice Secretary David Gauke has resigned from Government.
On Wednesday Philip Hammond announced his resignation as Chancellor ahead of Boris Johnson entering Downing Street.
He tweeted: "I have just handed in my resignation to @theresa_may. It has been a privilege to serve as her Chancellor of the Exchequer for the last three years."
Former International Development Secretary Rory Stewart resigned from the Cabinet, and earlier said Mrs May was "very, very dignified" as she chaired her final Cabinet meeting.
Theresa May addressed the nation, before attending Buckingham Palace where she offeredher resignation to the Queen.
Earlier she bid an emotional farewell to the House of Commons as Prime Minister.
She described the link between politicians and their constituents as "the bedrock" of British democracy.