Salmond Defends SNP Not Clapping Cameron
13 July 2016, 13:53 | Updated: 31 August 2016, 13:57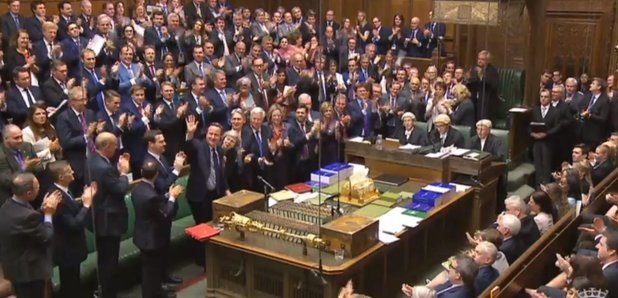 The SNP didn't clap for David Cameron after his last Prime Minister's Questions today and Alex Salmond thinks that's absolutely fine.
Tory colleagues of Cameron stood and applauded warmly when he finished at the dispatch box today, following his final PMQs.
But Labour and SNP MPs remained sat down, with many of the Scottish party's members also refusing to clap for the outgoing PM. The SNP's leader in the Commons, Angus Robertson, was accused of runing the mood of the last PMQs when he announced his party's plans.
Alex Salmond was asked by an LBC caller who thought it was hugely disrespectful and Mr Salmond did not agree at all.
"I saw what Angus Robertson said and what he said was he wished David Cameron well on a personal level but they wouldn't be clapping his political achievements.
"I think he's quite right to do that."
Salmond described the applause as "organised hypocrisy" and said he didn't clap from his seat in the Gallery.
Tony Blair was applauded by all sides of the Commons when he left office and Salmond couldn't resist wondering if the former Labour leader would get such a reaction now.