PMQs: Did Jeremy Corbyn Call Theresa May A "Stupid Woman"?
19 December 2018, 12:49 | Updated: 19 December 2018, 16:45
This clip is being shared widely on social media and appears to show Jeremy Corbyn mouthing the words "stupid woman" at Theresa May.
The alleged remarks came after the Prime Minister said the Labour Party "aren't impressed" with their leader's stance on Brexit.
As MPs jeered the Labour leader appeared to mouth the words "stupid woman".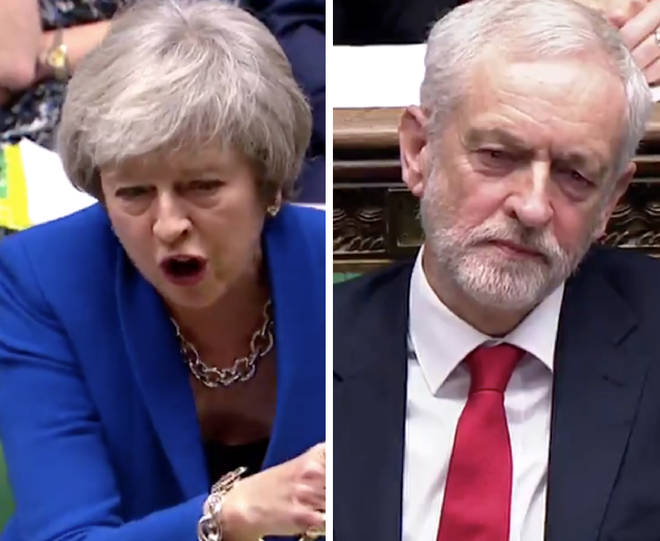 He has now been urged to clarify his remarks - with many Tory MPs demanding an apology.
Conservative Party chairman Brandon Lewis said on Twitter: "Will @jeremycorbyn apologise or clarify exactly what he was saying? Looks shocking on the film, unacceptable in any environment."
Health Secretary Matt Hancock wrote on Twitter: "The mask slips. Jeremy Corbyn's abuse of the Prime Minister shows what a reactionary misogynist he is".
He added: "Unreal how Corbyn supporters are actually *defending* him calling the PM a "stupid woman". Sickening. This misogyny now runs deep in Corbyn's Labour - and runs right to the top."
Some viewers, however, have claimed he used the word "comment" or "rubbish" instead of "woman".
I'm pretty sure he says 'stupid rubbish'

— Magpie Ranger (@NUFC_OurClub) December 19, 2018
A spokesman for Mr Corbyn said: "He did not call her a stupid woman and so I don't think there's any basis for an apology."
"As I understand it, he said 'stupid people'."
But watch closely above and make up your own mind.