'You ain't seen nothing yet,' Boris Johnson tells Cabinet amid no-deal Brexit fears
17 December 2019, 11:12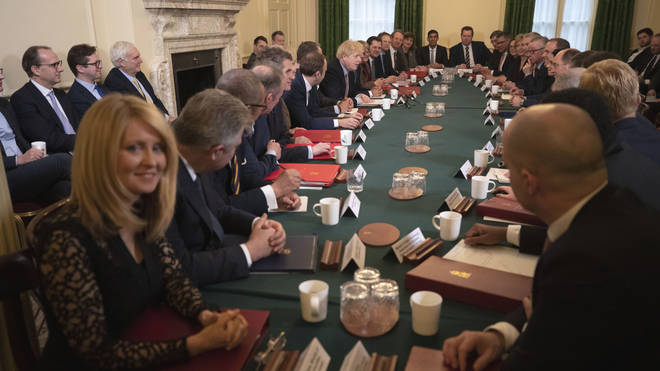 Boris Johnson hailed his "seismic" election result during a Cabinet meeting as he welcomed his top team back and promised them "you ain't seen nothing yet."
Addressing his new Cabinet in Downing Street on the morning more details of his Brexit deal emerged, the PM quipped there may be a familiar face, with Nicky Morgan back as a Peer.
On Tuesday it was reported the Prime Minister is set to enshrine the UK's exit date from the EU in law to "legally prohibit" any further extension.
The PM said: "Good morning everybody, thank you very much, I want to welcome everybody back to the Cabinet table this morning.
"I want to thank you for all your hard work in getting this Government re-elected and getting this Government back 109 new Conservative MPs.
READ MORE: No Deal Brexit could be back on the cards, warns Europe
"I want to welcome very warmly our new Welsh Secretary Simon Hart, where is he, there he is, and our Culture Secretary Nicky Morgan, a face you may recognise.
"The voters of this country have changed this Government and our party for the better and we must repay their trust now by working flat out to change our country for the better."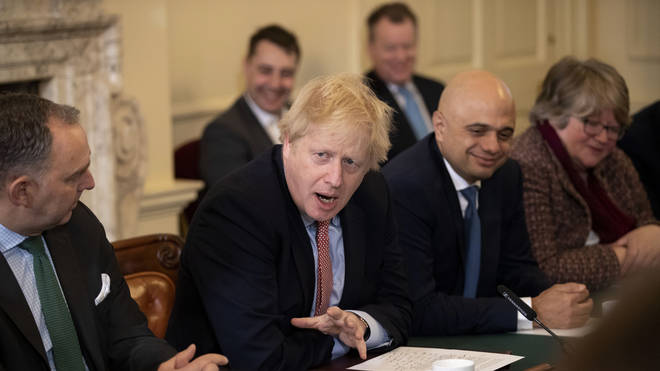 The Conservative Party stormed to victory in the UK's recent General Election, securing Boris Johnson an 80 seat majority.
Mr Johnson continued: "We should have absolutely no embarrassment about saying that we are a people's Government and this is a people's Cabinet and we are going to be working to deliver on the priorities of the British people.
"That's what they want us to do and we must recognise that people lent us their votes at this election, It was quite a seismic election but we need to repay their trust and work 24 hours a day, work flat out, to deliver on this.
"Of course, the first 100 days were very busy, 140 days or whatever it was, you may remember it was a very frenetic time but you ain't seen nothing yet folks.
"We are going to have to work even harder because people have a high level of expectation and we must deliver for them."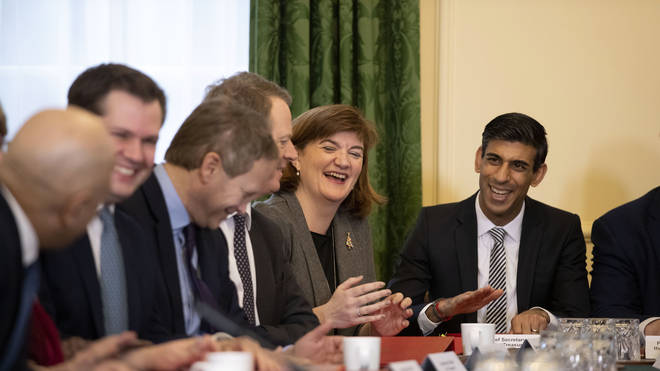 The Prime Minister then began a call and response hailing back to his Tory election manifesto pledges, he addressed his Cabinet and said: "How many new hospitals are we going to build?"
"40," the ministers chanted back.
Mr Johnson said: "Correct. How many more nurses are we going to hire?"
"50,000," said the ministers.
"You know the answers," Mr Johnson replied. "How many more police?"
"20,000," the Cabinet said in unison.
Mr Johnson continued: "There is a huge huge agenda, a huge huge agenda, of delivering social justice, of addressing every problem from social care to homelessness to levelling up and uniting across our country with better infrastructure, better education and technology.
"That's what we want to do, we're Conservatives, we believe in extending opportunity across the whole of the United Kingdom and that's what we're going to devote ourselves to.
"Thank you all very much for your efforts, thank you for what you've done, I'm proud to say today that Saj has just passed me some, at the risk of sounding more North Korean than normal, Saj has passed me some good economic news that unemployment is up again, employment is up again and unemployment is down.
"The economy continues to be robust but we will now take steps to strengthen it further."
Mr Johnson wants to prevent MPs from being able to extend the Brexit transition period beyond the end of 2020.
Under current plans, Mr Johnson's Government would see Britain's membership of the EU finish at the end of January with the transition period concluding in December 2020.
But Ministers plan to put a reworked Withdrawal Agreement Bill (WAB) before the Commons on Friday, which would rule out any transition period.
Shadow Brexit secretary Sir Keir Starmer said the move was "reckless and irresponsible" and he argued that Prime Minister Boris Johnson was "prepared to put people's jobs at risk".
"We've got to, got to deliver now. [It's about] sacred, sacred trust," the PM told 109 new Conservative MPs when he addressed them for the first time in Westminster Hall.
In October Mr Johnson signed a treaty with Brussels which legislated for the UK and the EU to jointly agree to extend any transition period for one or two years before a deadline of July 1, 2020.
However, key EU figures - including chief negotiator Michel Barnier - have cast doubt on a deal being done in time, putting the prospect of a no-deal Brexit back on the table, unless there is an extension to the negotiation period.
Mr Barnier told EU Politicians recently: "With regards to this agreement, we will not get everything done in 11 months. We will do all we can — we won't do it all. It is unrealistic that a global negotiation can be done in 11 months, so we can't do it all. We will do all we can to get what I call the 'vital minimum' to establish a relationship with the UK if that is the timescale."
A No 10 source said: "Last week the public voted for a government that would get Brexit done and move this country forward - and that's exactly what we intend to do starting this week.
"Our manifesto made clear that we will not extend the implementation period and the new Withdrawal Agreement Bill will legally prohibit Government agreeing to any extension."