Bizarre Moment Tree Protester Is Arrested For Blowing Toy Trumpet
22 March 2018, 13:10
This is the bizarre moment a Sheffield tree protester was arrested for blowing a plastic trumpet.
The 57-year-old woman was detained on Wednesday on suspicion of causing intentional harm or distress following a complaint from a member of the public, police said.
A video posted on to social media shows the woman hooting on a bright red plastic trumpet as she campaigned against trees being felled nearby.
She can be heard asking a police officer which law she is breaking by playing the toy instrument.
As the policeman walks away, she quickly blows into it again - before she's taken away by officers to cries of "shame".
A later video then shows the woman setting off a rape alarm after accusing council contractors of "raping trees".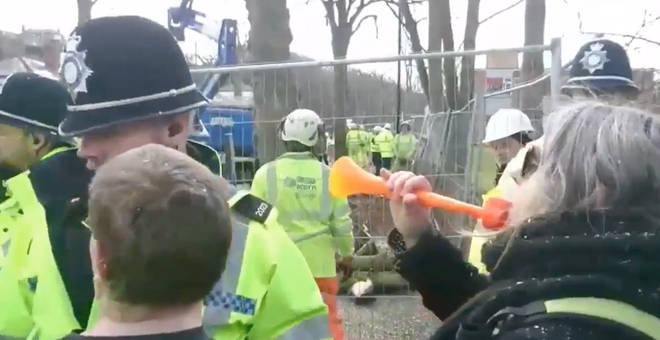 The trees are being felled and replaced with saplings as part of a highways maintenance contract.
It's become a contentious issue in the city as campaigners claim healthy trees are being unnecessarily removed.
A number of other protesters were also accused of breaking the law during Wednesday's protest.
A man, 49, was arrested on suspicion of a public order offence and accepted a fixed penalty notice.
A 65-year-old man was arrested on suspicion of obstructing work under section 3030 of the Highways Act 1980.
While a number of others were also reported under the same section.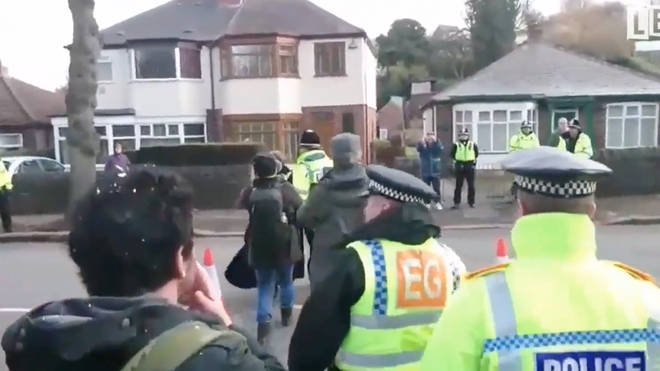 In a statement, South Yorkshire Police said: "Earlier today, due to the peaceful nature of the protests, police resources were withdrawn from the site.
"However, only a short time later a breach of the designated safety zone temporarily stopped work, and a number of people were observed gathering on the road.
"Due to the breach, and safety concerns associated with people standing on a live highway, a number of officers were sent back to the site until the tree work had completed."