'Post-Brexit reality': Dover delays were 'predictable', says travel journalist Simon Calder
2 April 2023, 12:18 | Updated: 2 April 2023, 12:57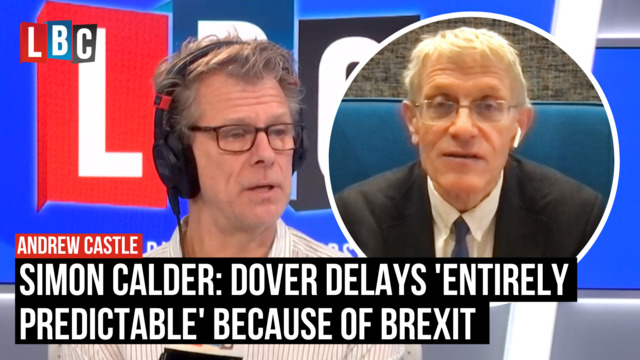 Dover delays are 'the post-Brexit reality' says Travel Editor Simon Calder
Travel expert Simon Calder told Andrew Castle the continued delays at Dover port are a result of Brexit.
Long delays at the French Border Control continue to cause chaos at the Port of Dover with waiting times of up to ten hours.
Freelance UK travel journalist Simon Calder explained the scene to Andrew Castle: "Everything remains gummed up... it is taking three to four hours to process people once they get to the Port of Dover on a coach, that's after they've been held at the cruise terminal."
Mr Calder said: "This is first contact with the post-Brexit reality." After detailing the backlog at Dover, he said that the delays were "sadly all too predictable".
"Before Brexit, it was very very straightforward," he said holding up a passport, "the process was really swift because all they had to do was have a look at your passport and say, 'is this a valid document?'"
"What, under the Brexit agreement, we asked for [and] we signed up for was to have a much much tougher regime."
"They've got to inspect your passport for the various 50 or 60 people on that coach. They then have to stamp the passport. This takes time."
From as soon as November the UK will have an entry-exit system Mr Calder explained. "This is no surprise to anybody, it is not Europe being mean to the British.. this is exactly what we knew about" before the EU referendum, he told Andrew.
The entry-exit system will include mandatory facial recognition and fingerprints for travelling to other European countries.
There is "no way of getting around" the system as "that is what we signed up for" he declared.
READ MORE: 'These are the consequences': Travel Editor says Brexit is to blame for massive queues at Dover
Andrew Castle made a passing comment about now wanting to take flights instead of travelling via ferry, despite the environmental impact.
Simon Calder picked up on the comment, saying: "Exactly as you say, people won't be going on low-impact journeys to France on coaches - which are really green - they will instead fly from Gatwick and Stanstead and Luton."