Public services in 'good shape' says Tory chairman Greg Hands
16 April 2023, 10:56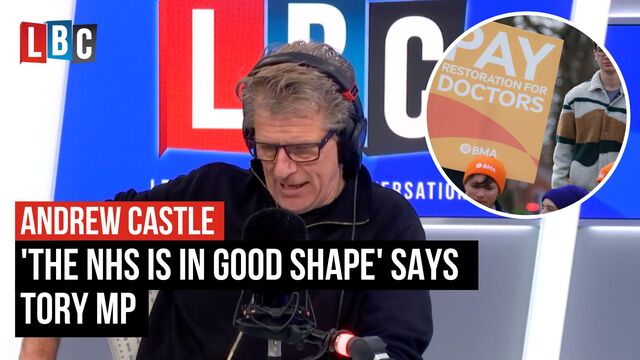 'The NHS is in good shape', says Tory MP
Andrew Castle questioned Tory chairman Greg Hands on Sunday morning leading to a heated exchange.
Andrew Castle was left baffled on Saturday after Tory chairman Greg Hands claimed that public services in Britain are in 'good shape'.
Andrew questioned Mr Hands asking: "Are you telling my listeners that public services are improving?"
He continued: "The NHS is falling apart!"
Before listing other services which have experienced recent issues.
The discussion comes as Mr Hands claims that Prime Minister, Rishi Sunak will maintain red wall gains with his five priorities plan.
READ MORE: Rishi Sunak scraps plans to build fourteen smart motorways citing soaring costs and a lack of public trust
Mr Hands responded by saying that doctors and nurses are at "record numbers" and claimed that there has been a "one quarter increase in frontline NHS staff".
Andrew interrupted exclaiming: "It's falling apart Greg, come on…it's a nightmare!"
Mr Hands said he did not "accept" that there is anything wrong with our "excellent public services".
READ MORE: Violent clashes erupt in Sudan as US ambassador takes refuge amid reports of civilian deaths
He then cited the Covid-19 pandemic as a reason for the backlog in the NHS and reiterated that Rishi Sunak is addressing this as part of his five priorities campaign.
He went on: "We're dealing with the strikes at the moment but overall our public services are in great shape".
Andrew concluded saying: "I find it absolutely extraordinary that you've said that.
"I don't feel that myself and I don't think my listeners would either".