'Don't make the same mistake with Taiwan that you made with Ukraine', island's foreign minister warns
20 April 2023, 13:40 | Updated: 20 April 2023, 22:32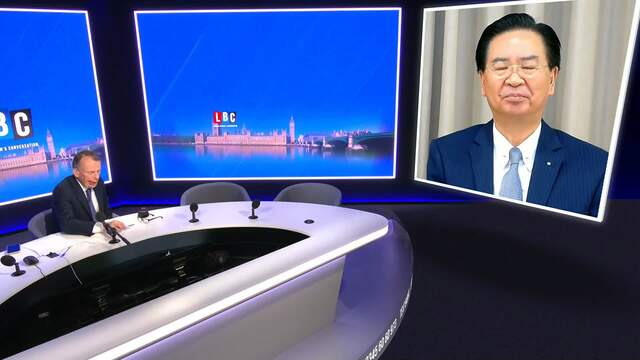 Do not make the same mistake, Taiwan's Foreign Minister warns
Failure to stop Russia before it annexed Crimea "emboldened" it to invade Ukraine, Taiwan's Foreign Minister Joseph Wu told Tonight with Andrew Marr.
Mr Wu warned that a similar scenario could happen with China and Taiwan.
Andrew Marr asked him what his message was to the British public and government about its policy towards his country, given that the world "ignored" or "pushed to one side" Russia's frequent threats of invading Ukraine.
Mr Wu replied: "We did not stop Russia from taking over Crimea, and the Russians were emboldened to go ahead and initiate a war against Ukraine, and the same kind of analogy can be drawn on the Indo-Pacific.
"We did not stop China from imposing national security law in Hong Kong and people were asking, 'what is going to be the next - is Taiwan going to be the next?'"
READ MORE: Putin opponent Vladimir Kara-Murza sentenced to 25 years in jail in Russia for treason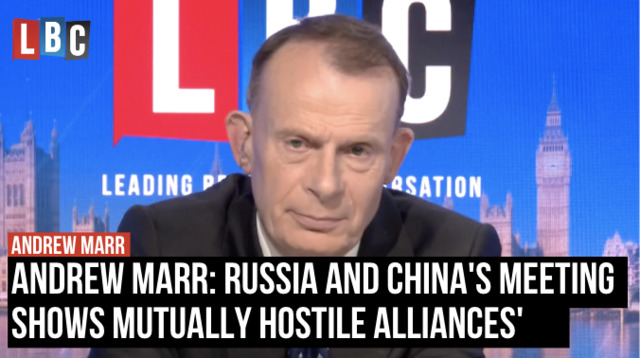 Andrew Marr: Russia and China's meeting demonstrates 'big, mutually hostile alliances'
READ MORE: Andrew Marr: Russia and China's mutual adoration shows world is retreating into hostile alliances amid Ukraine war
"Now Taiwan is feeling all this pressure", he said, adding that if the country were to be taken over by China, the surrounding waters would fall under China's influence or control - "a danger for the countries in this region".
He continued: "If we do not stop the authoritarianism from expanding any further, I think China has an ambition over the Pacific, the Indian Ocean, and Africa.
"Therefore the lesson is that we need to stop the authoritarianism from expanding further. We made a mistake in not stopping Russia from attacking Ukraine, and I hope the like-minded partners, the UK included, can stop China from initiating any war against Taiwan", Mr Wu said.
Watch Tonight with Andrew Marr at 6pm only on Global Player.