Andrew Marr: Russia and China's mutual adoration shows world is retreating into hostile alliances amid Ukraine war
30 March 2023, 18:22
Andrew Marr: Russia and China's meeting demonstrates 'big, mutually hostile alliances'
A recent meeting between Russia's Vladimir Putin and China's Xi Jinping shows how the world is once again retreating into "big, mutually hostile alliances", Andrew Marr has said.
Speaking on LBC's Tonight with Andrew Marr on Thursday, the presenter gave a quick rundown on recent UK politics now the House of Commons is off for its Spring break.
From Boris Johnson's Parliamentary showdown in front of the Privileges Committee to the recent election of Humza Yousaf as SNP leader, it has been a busy few weeks, Andrew remarked.
But Andrew's focus quickly turned to the War in Ukraine and how the world is changing as the war rages on.
Watch Tonight with Andrew Marr exclusively on Global Player every Monday to Thursday from 6pm to 7pm
"It's weird isn't it, how easily this very bloody, very dangerous struggle slips out of the news and out of our minds," Andrew said.
"But with Russia and China recently declaring their mutual adoration, and with NATO on the verge of a major expansion, there's a real sense of the world once more settling into big, mutually hostile alliances.
"Iran and Saudi Arabia have been brought together by the Chinese and they're also in talks with the so-called BRICS security alliance which already includes Brazil, Russia, India, China and South Africa."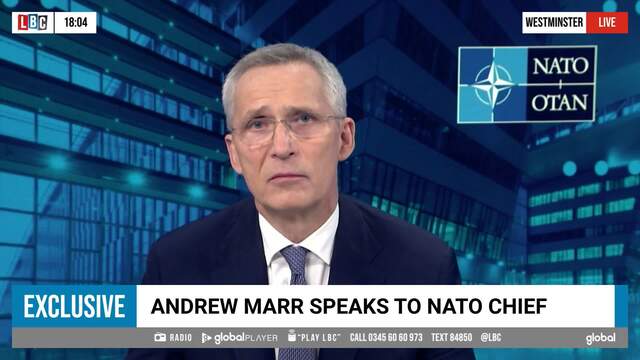 NATO Sec Gen: 'The nuclear rhetoric coming from Moscow is dangerous'
You can also listen to the podcast Tonight with Andrew Marr only on Global Player.
He continued: "In Britain we haven't gone for the kind of major expansion of defence spending other countries have agreed.
"But it's pretty clear we are going to have to spend much more of our time in the next few years on military issues than we ever expected."