Tonight with Andrew Marr 02/23 | Watch again
2 November 2023, 21:51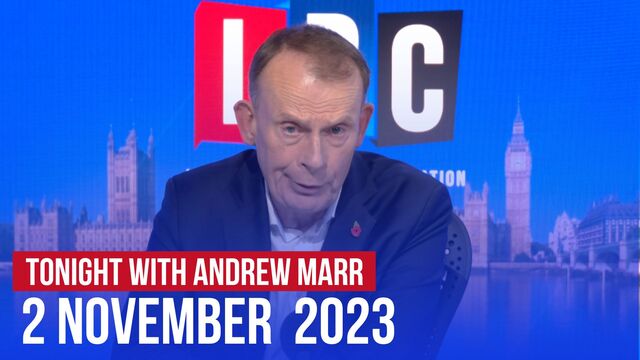 Watch Again: Tonight with Andrew Marr 02/11/2023
You can watch Thursday's Tonight with Andrew Marr in full here.
Andrew Marr was joined by:
Ed Conway - Sky News Economics Editor and author of Material World: The Six Raw Materials that Shape Modern Civilisation
Merryn Somerset-Webb - Senior Columnist at Bloomberg and Ex-Editor in Chief of Moneyweek
Francesca Albanese - Special Rapporteur on the situation of human rights in the Palestinian Territory occupied since 1967.
Maria Avdeeva - Security and Defence Analyst who has covered the Ukraine war since it began.
Simon Calder - Travel Correspondent for The Independent.
Annie Zaleski - Music Journalist and Author
Oliver Murray - Director of 'Now and Then - The Last Beatles Song' which is the short film that goes alongside the release of the song.
Annabel Denham - Deputy Comment Editor at the Telegraph.
Matthew Holehouse - British Politics Correspondent at The Economist.
Watch Tonight with Andrew Marr exclusively on Global Player every Monday to Thursday from 6pm to 7pm https://www.globalplayer.com/live/lbc/uk/