Ex-Justice Secretary says Rishi Sunak is 'ducking out of difficult decisions'
28 January 2023, 15:54 | Updated: 28 January 2023, 15:58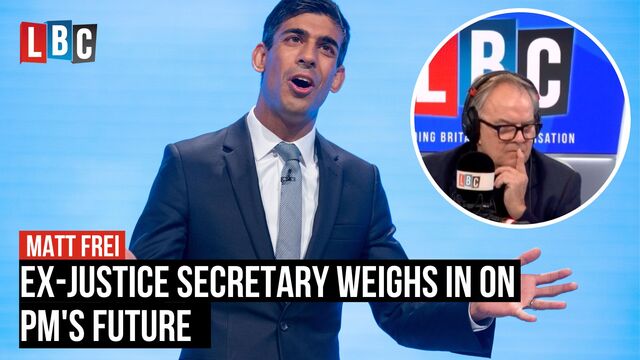 David Gauke says what Rishi Sunak should do about Nadhim Zahawi
Ex-Justice Secretary David Gauke said the Prime Minister is a 'good man' but that he finds himself 'trapped.'
In a discussion with Matt Frei about how Rishi Sunak should handle the row over Conservative Party Chair Nadhim Zahawi's unpaid taxes, Gauke said the Prime Minister was facing 'a lack of support' from his colleagues.
Matt pointed out that another leadership challenge could result in a General Election, which the Tories 'would most likely lose,' and asked why Sunak hasn't yet taken 'quite radical' action to increase morale within the party.
Gauke responded that Sunak's response 'was a good one,' saying that the Party having an ethics advisor and starting an enquiry into Nadhim Zahawi's taxes and that he thought in a couple of weeks the current Chair will have left office.
READ MORE: Poor antenatal care led to the death of this caller's daughter
'In the interim, it does look as though Rishi Sunak is being a bit passive,' Gauke conceded. He thought there was 'more than enough justification' to ask Zahawi to quit and that Sunak 'could make that decision here and now.'
He also said there were many possible reasons why Zahawi hasn't yet left office, saying that he's 'pretty popular on the backbenches' and that 'Sunak doesn't want to make another enemy.'
Gauke maintained that 'in isolation, I think the approach that Rishi Sunak has taken is perfectly reasonable.' But he acknowledged that the Prime Minister faces 'an accumulation of occasions where the Prime Minister is ducking out of difficult decisions for Party management reasons.'
He then said that this 'conveys an overall impression of a Prime Minister who isn't sure of himself.'