Cancelled for our convenience
9 June 2018, 20:45 | Updated: 9 June 2018, 20:54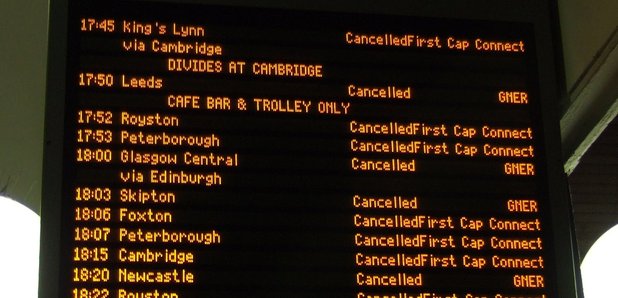 You may have to travel to work on one of our (third) world-class train lines. The man to thank for the conditions on your commute is Mark Carne, who is Chief Executive of Network Rail.
If you want to thank him though, you will have to hurry, as he is leaving the job that he has held for four years.
And what years they have been.
It might be that long since you were able to find a seat on the 8.05 to Waterloo.
As he departs his exalted position to go home, he can reflect on the impact that he has had on the essential transport infrastructure of the nation.
He'll probably take a cab.
He can afford it. For the job of stewarding the railways to its current level of efficiency and exactitude, he was paid £820,000 last year.
You will recall that in 2014, he oversaw the Boxing Day misery that left tens of thousands of travellers stranded or delayed and refused to cut short his holiday to sort it out.
When questioned over whether it was appropriate for him to accept a bonus on top of his vast salary, he laughed and said it was only going to be a maximum of £135,000 and he thought we had "more important things to talk about than my finances".
That's the way to ingratiate yourself with the poor penurious public who fork out through the nose to use a transport system that fails them on a daily basis.
It's that tact and diplomacy that got him to the top.
He was berated in the press and after ridiculing the suggestion that he should forego the bonus, he relented just 24 hours later.
More recently there has been the debacle of the new improved timetable.
It would not have been an improvement if it had replaced no service at all.
Calculating the number of cancellations, delays and slow running trains would tax Microsoft.
Over the past month, if you were going for a train, you simply assumed it would not arrive, so as to avoid disappointment.
Passengers have been blown across station forecourts by the volume of apologies coursing from the loudspeakers of rail companies.
They were sorry for the cancellation of the train that replaced the train that didn't arrive because of scheduling difficulties. They apologised for the inconvenience and hoped that the non-arrival of the "service" did not delay our journey.
WELL OF COURSE IT BLOOMIN' WELL DID!
It has got so bad that we have strayed into realm of old jokes.
Did you hear the one about the driver of an empty bus who sailed past queues of people waiting at the stops because if he had halted to let them on, he wouldn't have been able to keep to the timetable?
Well, that's exactly what is being planned to ease the overcrowding on the trains – just don't let passengers on.
I am not making that up.
The government's proposal, penned by the geniuses at the Department of Transport proposes that some trains are not listed on the timetable or the station departures board.
These ghost trains would appear as though by magic and would let passengers off but not allow them to board. That way it cuts down on the crush.
The report titled "CrossCountry Passenger Rail Franchise public consultation" would affect cities like Leeds, Sheffield, Newcastle, Glasgow, Bristol and Birmingham.
If you happen to live in any of those fine places, your train might be arriving shortly, we really can't say when, it's a secret.
Network Rail is the company that controls the tracks and the stations, and you will be pleased to know that as it has presided over cancellations and delays, while punctuality has fallen, as it has missed public performance targets and as less than half their customers think they are getting value for money, their profits have surged.
The more people complain about the delays and the toilets on board and not being able to find a seat, the company that is responsible is doing better than ever.
And profits means bumper prizes for those in the offices on the top floor.
Oh, and the Chief Executive Mark Carney was just awarded a CBE.
He is now a Commander of the British Empire for services to the rail industry.
That's one of those jokes that isn't funny.