Not Doing The Lambeth Walk
13 January 2018, 20:43 | Updated: 13 January 2018, 20:47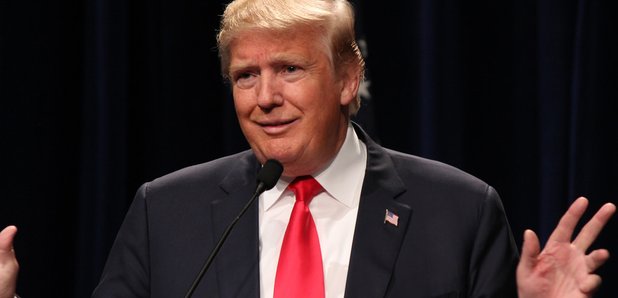 Donald Trump has cancelled his visit to London.
He heard the Queen was not going to pick him up at the airport and relay him to the palace in a glorious, gilded procession and he threw a tantrum and called off his arrangements.
That's not true. I made that up, apart from the tantrum part.
He was going to open the new US embassy: ribbon cutting, smiling, waving, speechifying, that sort of thing.
This is not Virginia though, where he is more popular than Star Wars. He would not have been greeted by cheering local yokels in Make America Great Again hats.
Our locals had other things in mind. That is probably the reason for his absence.
When he went to Saudi Arabia, Israel, France, Poland, Germany, Japan, South Korea, and 'Jyna' he would not have been able to understand the insults thrown at him, but here they would be shouted in English, and he has almost mastered that language.
The Twitter spats he has had with London's mayor Sadiq Khan and Theresa May, the rudeness shown him by Boris Johnson and pretty much all of our politicians that have expressed an opinion and the abuse he gets on social media from the good people of this land probably did not help either.
However, none of those people are to blame, according to the man himself.
The real culprit preventing Ancient Orange from coming to open America's newest and spangliest embassy is, of course, the notorious Kenyan Muslim terrorist Barack Hussein Obama.
Obama is from a period of what seems like ancient history, when the leader of the free world did not sit in bed at 6.30 in the evening stuffing Big Macs in his face and picking Twitter fights with former Miss Worlds.
Donny said it was Oback Arama's fault that he's not coming to good old Britainland because Obama sold the old US embassy in Mayfair for what he called 'peanuts'.
Very bad deal, hugely bad, everyone says so, I can tell you that.
Also, the new embassy is in an 'off location', which means there isn't a McDonald's within lumbering distance.
The man doesn't want to go to an off location – why should he? He needs 'me time' at his golfing resorts.
It's not like it's part of the job for a President to open the new embassy in the country they have the famous Special Relationship with.
This has nothing to do with the fact that he wouldn't get the full state visit and hang out with the royals and get driven around in a gold carriage and wouldn't be met with cheering fans wherever he went, what on earth gave you that idea?
All the pomp and appurtenances of wealth and status mean nothing to Donny, as you will know if you have ever seen pictures of him ascending his golden tower in his golden elevator to his golden apartment.
He released a statement, by which I mean he sent out a message on Twitter, like a 14 year old.
It said: 'Reason I cancelled my trip to London is that I am not a big fan of the Obama administration having sold perhaps the best located and finest embassy in London for 'peanuts', only to build a new one in an off location for $1.2billion. Bad deal. Wanted me to cut ribbon – NO!'
The capitalised 'NO' with an exclamation mark is priceless. You can hear him stamping his tiny feet three thousand miles away.
This petulant strop is more about his approval ratings, which have set the bar so low for American presidents that to get lower, the next one would have to limbo under it.
By the way, would you care to guess what his predecessor's approval rating is?
It is 63% at the time of writing.
They are like yin and yang – Donny is on 37 and Obama is on 67. Complete opposites.
In this country, though, it is worse. In Britain, Trump is about as popular as dandruff - a full 77% of Britons dislike him.
Darth Vader gets a better score than that.