Family Friend Of Charlie Gard Issues Final Plea To Donald Trump
6 July 2017, 20:25 | Updated: 6 July 2017, 21:02
Critically ill baby Charlie Gard's life support machine is due to be switched off on Friday. A family friend has issued one last plea to save him.
Maria Tatalovic joined Nigel Farage in a final attempt to save the 10-month-old baby.
Charlie suffers from a rare genetic condition and judges have ruled that his life support machine should be turned off after his parents lost a long legal battle.
His story has made headlines around the world, with US President Donald Trump even tweeting that he would be "delighted" to help.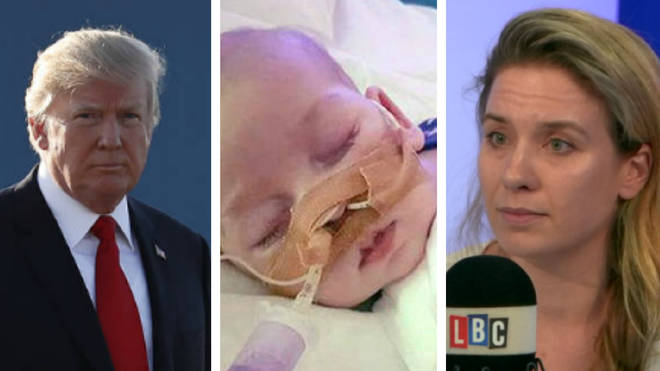 Now, just hours before Charlie's life support is due to switch off, Maria joined Nigel in the LBC studio to plead for President Trump to intervene and keep the baby alive.
"President Trump, I never thought I would actually direct a message to you but please save this baby," Maria said.
"We just need him to be released, transferred and receive treatment which will be paid for. We're not asking for anyone to treat [Charlie] who doesn't want to.
"It's about choice, it's about parental rights, it's about human rights and it's about the right to life for this baby who deserves it."
Watch and share the emotional appeal above.