It's 50-50 On Whether Theresa May Is Still PM At Christmas, Nigel Farage Predicts
20 June 2017, 20:20 | Updated: 20 June 2017, 20:22
Nigel Farage has given Theresa May just a 50 per cent chance of remaining Prime Minister until Christmas.
The outspoken LBC presenter made the prediction on the eve of the Queen's Speech.
With less than 24 hours until the prestigious ceremony, it's reported Mrs May is still trying to broker a deal with the DUP in order to secure her majority in the Commons.
After a disastrous few months for the Conservative leader there has been much talk on whether she can cling on to power.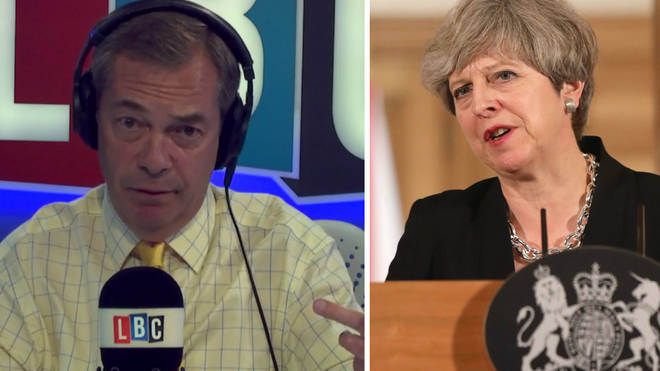 But, speaking on his nightly LBC show, Nigel made this prediction as it was "quite clear" the Prime Minister wasn't enjoying the job.
"Provided they get this government off the ground there will come a time over the course of this summer when they'll be great pressure on her to go," he said.
"Not to be seen to be pushed, but given the option of walking out on her own.
"I'd say it's 50-50 whether she's still here at Christmas, I really would."
You can watch Nigel's prediction in full at the top of this page.