Nigel Farage Reflects On The Jeremy Corbyn Student Debt Row
25 July 2017, 20:44 | Updated: 25 July 2017, 20:57
Nigel Farage has been left wondering whether Jeremy Corbyn's popularity among young voters will soon plummet in the aftermath of the student debt row.
The Labour leader has faced calls to resign over claims he "lied" to young people about wiping student debt.
During the election campaign, Mr Corbyn said he would "deal with it" - but now insists that didn't mean wiping out all debts.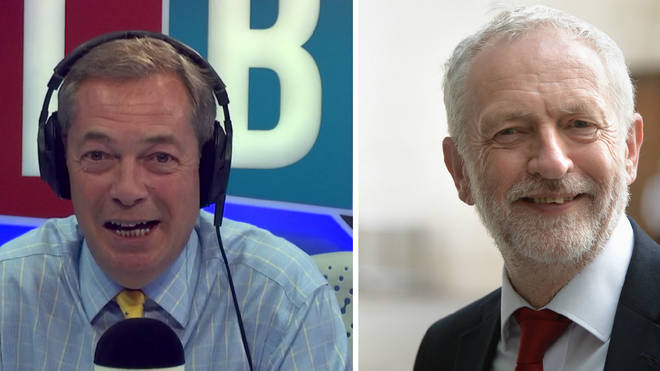 Lord Sugar, a former Labour peer, said the party leader had "alluded" to clearing student debt and has now called on him to stand down from his post.
And giving his assessment of the situation, Nigel questioned whether Mr Corbyn's fortunes among the young would now change.
Speaking on his nightly LBC show he compared the situation to when former Lib Dem Nick Clegg backtracked on not raising tuition fees.
Nigel said: "I wonder, is the shine now beginning to come off that great Corbynista vision?
Corbyn alluded to refund student debt to get votes from the young .You need Corbyn on the show ask him why he lied @piersmorgan @GMB

— Lord Sugar (@Lord_Sugar) July 25, 2017
"Youngsters, in nightclubs chanting on the dance floor - I haven't been there myself of course, but I was told by a nightclub owner that at midnight they were chanting on the dance floor 'Corbyn! Corbyn!'
"This mania that had swept the young that he was going to reduce all existing student debt and now we're told actually that wasn't really true.
"So I wonder whether perhaps we might see Mr Corbyn's fortunes with the young decline."
Watch Nigel's full analysis above.