Nigel Farage Reacts As Jean-Claude Juncker "Mocks" Theresa May's Dancing
8 October 2018, 19:43 | Updated: 8 October 2018, 20:05
EU chief Jean-Claude Juncker has been accused of mocking Theresa May by dancing at the start of a speech, but Nigel Farage doesn't see it that way.
The European Commission president has been forced to defend his moves, which saw him bop from side to side behind the lectern on Monday.
It did appear similar to the Prime Minister's now infamous dancing to Abba at the Tory Party conference last week.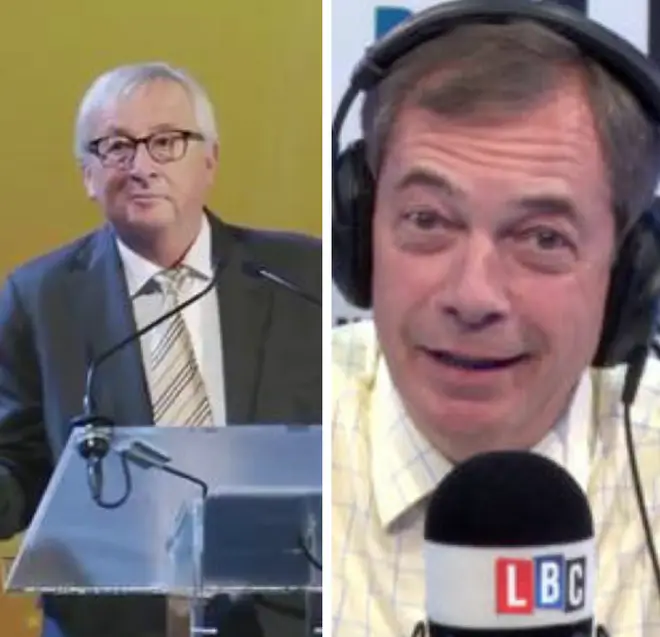 - EU's Jean-Claude Juncker denies mocking Theresa May with own dance
A spokesman for Mr Juncker said his dance was "not directed at anyone" and was merely an "improvisation on the moment as the music kept playing before he could start his speech".
Mr Juncker has "great respect for Theresa May, repeatedly stated in public and demonstrated in practice," the spokesman added.
Giving his take on his nightly LBC show, Nigel didn't detect any foul play.
He told LBC listeners: "As a Eurosceptic I'm supposed to be outraged that they're treating our Prime Minister like this.
"But actually, he did it with a smile, it was pretty amusing, it wasn't some of the nasty, horrible, bullying stuff we have seen from the EU negotiators.
"Personally I'm not outraged, I think it's rather funny."