"Theresa May Hasn't Got What It Takes To Make Brexit Work"
9 January 2017, 20:46 | Updated: 9 January 2017, 20:56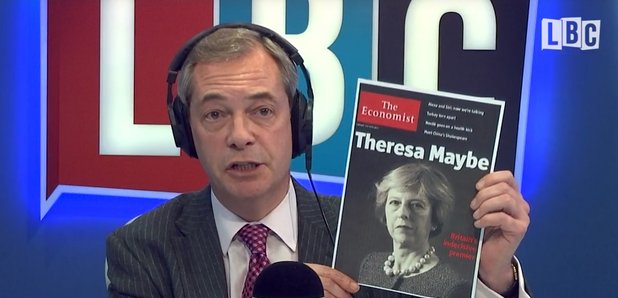 On his first LBC show, Nigel Farage accused the Prime Minister of lacking the "flair" and "energy" to make a success of Brexit.
Holding up The Economist's front page entitled "Theresa Maybe", Farage said: "Seven months is simply too long."
Despite admitting he didn't want a Remainer at No.10, Farage said he had given May the benefit of the doubt - until he realised how glacial the pace has been so far.
WATCH: Caller Challenges Farage For "Duping" Working Class
Saying that Brexit was a "liberating" opporunity for Britain to "go global", Farage said "I honestly don't see that this Prime Minister has got the energy, the excitement or the flair to do it.
"I'm worried and I fear a very frustrating 2017."
The Nigel Farage Show is live on LBC, 7pm, Monday - Thursday.