Israel is under 'no obligation' to supply Gaza, IDF spokesperson tells Sangita Myska
21 October 2023, 17:33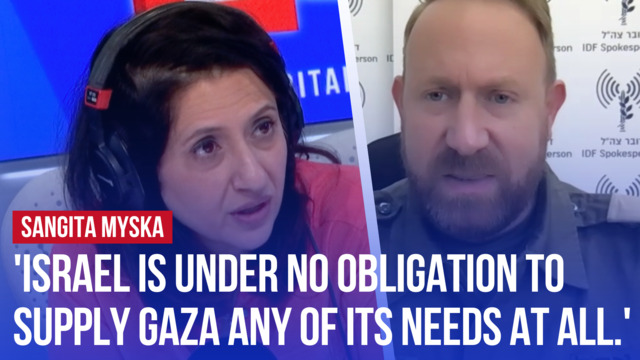 IDF spokesperson discusses Gaza siege with Sangita Myska
As humanitarian aid begins to enter the Gaza Strip through Egypt, IDF spokesperson Lieutenant Colonel Peter Lerner tells Sangita Myska that Israel doesn't have any "obligation" towards Gaza, but reiterates that a "distinction" is being made between Hamas and civilians.
Beginning the discussion, Sangita Myska questioned Lieutenant Colonel Lerner on their siege of Gaza, as well as their withholding of aid from the territory, stating: "This isn't a military tactic of modern warfare, this is something from the Middle Ages".
The IDF spokesperson claimed: "Israel is under no obligation to supply Israel with any of its needs at all".
Sangita objected to this, reminding her guest of a deal brokered in 2004 whereby the authority in Gaza at the time paid for energy and water supplies, and stated there is an "onus" on Israel.
He responded: "2004 was before Hamas came to power, and 2023 is when Hamas declared war on Israel".
Sangita continued with her challenge, stating: "You've said there wasn't a duty, there was in fact a duty, you have decided to abrogate that responsibility as part of a military campaign".
Lieutenant Colonel Lerner reiterated his statement that Israel does not have a "responsibility" to supply Hamas as the governing body of Gaza.
READ MORE: UK terror attack linked to Gaza 'has already been carried out' as asylum seeker arrested
READ MORE: Israel reveals plans to sever links with Gaza as part of a 'three phase' war with airstrikes and ground manoeuvres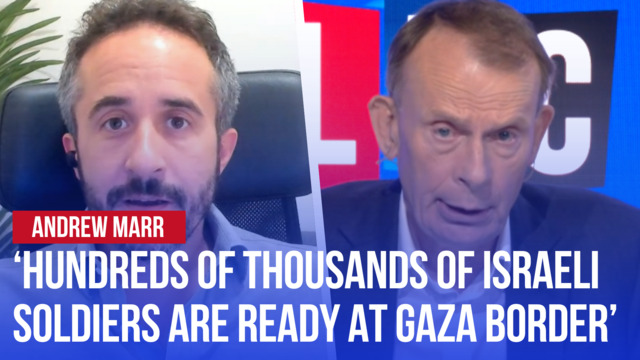 Andrew Marr hosts an Israel-Hamas war special panel
Continuing, he told Sangita: "There is an understanding that our role, our military role is to distinguish between civilians and Hamas terrorists..."
Sangita questioned this again, stating: "There is no distinction in the siege, the total siege there is no distinction between Hamas fighters who according to experts on LBC amount to about 15,000 people, with part-timers coming to about 50,000 and the population which is 2.3 million".
Lieutenant Colonel Lerner responded: "So in a terrorist organisation that runs a territory as a staging ground for massacre, brutality, and butchery, you are suggesting, 'do nothing, raise a white flag and hope they go away'."
Sangita concluded: "I haven't suggested that at all".