Israel reveals plans to sever links with Gaza as part of a 'three phase' war with airstrikes and ground manoeuvres
20 October 2023, 16:47 | Updated: 20 October 2023, 23:47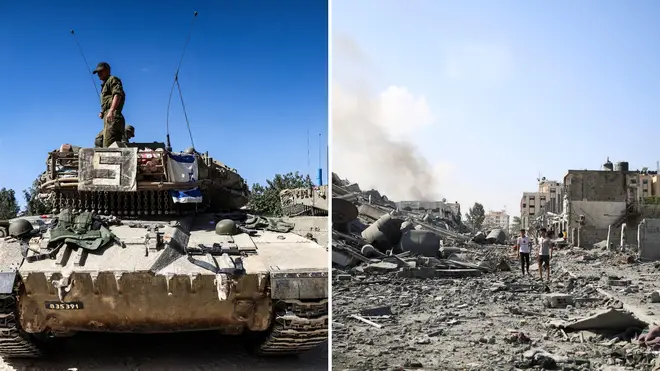 Israel plans to cut ties with the Gaza Strip when its war with Hamas is over, officials said as they unveiled plans for a 'three phase' war.
Defence Minister Yoav Gallant told Israeli lawmakers that Israel would no longer have "responsibility for life in the Gaza Strip" once the war was over.
He added that the conflict, which he said would take place in three phases, would create "a new security reality" for Israeli citizens.
The Minister said that the IDF expects to start its three-phase war with airstrikes and ground manoeuvres. The Israeli military then plans on moving onto defeating pockets of resistance from Hamas fighters.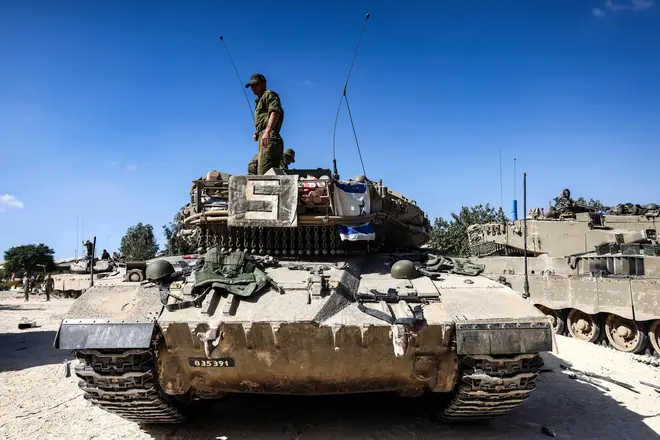 Read More: Machine gun fire breaks out on Israel's border with Gaza as soldiers told 'you will soon see it from the inside'
Read more: Rishi Sunak has 'failed monumentally' to 'humanise' both sides of the Israel-Hamas conflict says Israel expert
Machine gun fire has broken out on the border with Israel and Gaza after soldiers were told they would soon see the strip from "inside".
Gallant said that once this has been completed, Israel's 'responsibility for life in the Gaza Strip' will cease, following the warning it issued to Gazans to leave the country 'immediately.'
Currently, Israel controls around 90% of Gaza's land and sea borders, and provides the Strip with much of its infrastructure, including electricity and water.
Egypt controls Gaza's southern border, and supports Israel's blockade, seeing Hamas as a threat to its own safety and stability.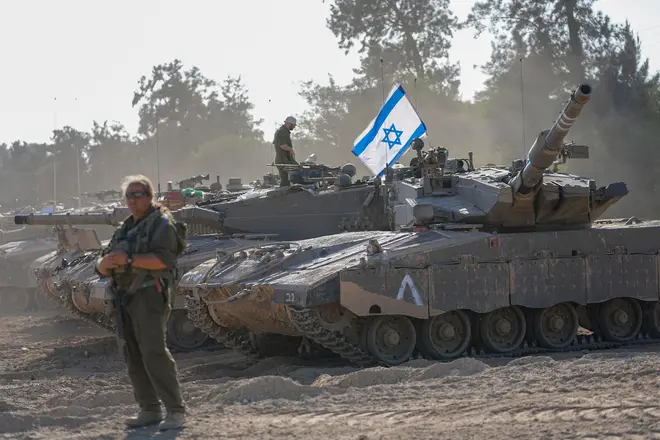 Israel has cut supplies to Gaza since war broke out between itself and Hamas, and has not yet allowed humanitarian aid to be passed into the region. As a result, food, clean water, medicine, electricity and fuel are in short supply in the small strip of land.
Gaza's two main sources of electricity, Israeli power lines and the Gaza power plant, have stopped functioning and medics and aid groups have warned that hospitals are on the brink of running out of power. On Monday, the UN warned that hospitals in the region could run out of fuel in as little as 24 hours.
More than 200 trucks and some 3,000 tonnes of aid are now positioned at the Rafah crossing, Gaza's only connection to Egypt, to deliver food, water and medicine to the millions of civilians trapped there amid withering Israeli airstrikes.
But under the deal agreed by Egypt after intense talks with President Joe Biden yesterday, only 20 trucks with humanitarian aid will be allowed into the enclave from Friday at the earliest amid fears that Hamas will confiscate the supplies.
Even before the latest blockade, Israel enforced a strict blockade on the Gaza Strip, imposing severe restrictions on imports and exports as well as controlling who gets to go in and out of the 141 square mile region.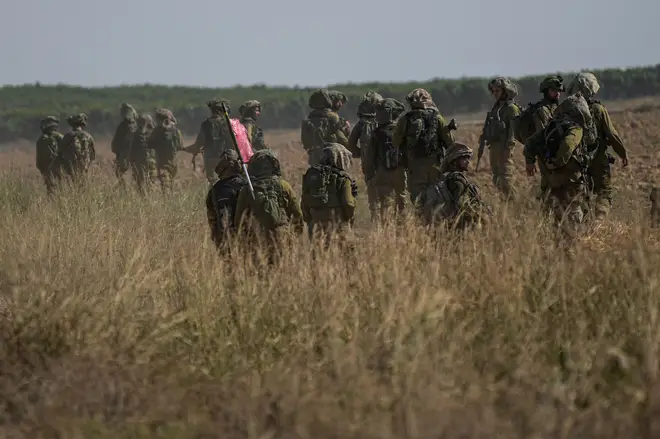 Read more: 'America is a beacon to the world, still': Joe Biden to ask Congress for urgent aid for Israel and Ukraine
Read More: 'Mommy I'm scared': Final messages of autistic Harry Potter fan, 12, who was killed by Hamas alongside her gran
Israel is massing its army and it's poised to invade on the ground in a bid to end Hamas's capacity to harm its people ever again.
The stage is set for an expected attack, which will force soldiers to fight in the densely urban Gaza city and in the "Metro" system of terrorist tunnels, with world leaders including Joe Biden and Rishi Sunak having left after their visits.
Automatic fire was heard on the border on Friday morning and reporters in the area have noticed increased activity on the frontier.
Yoav Gallant, the defence minister, told troops: "Whoever sees Gaza from afar will soon see it from the inside. The command will come, I promise you.
"There is no forgiveness for this thing. Only total annihilation of Hamas organisation - terror infrastructures, everything that has to do with terrorists and whoever sent them.
"It will take a week, it will take a month, it will take two months, until we annihilate them. You are not alone in battle. We trust you and count on you. Carry on training while there is time."
Israel has pummelled Gaza with air strikes, causing international observers to fear for innocent Palestinians' safety.
The Israeli Defence Forces (IDF) has told about a million people in Gaza city to go south for their own safety.
They will seek to ruin Hamas, having already killed a number of their senior members, and rescue as many of the roughly 200 hostages as they can.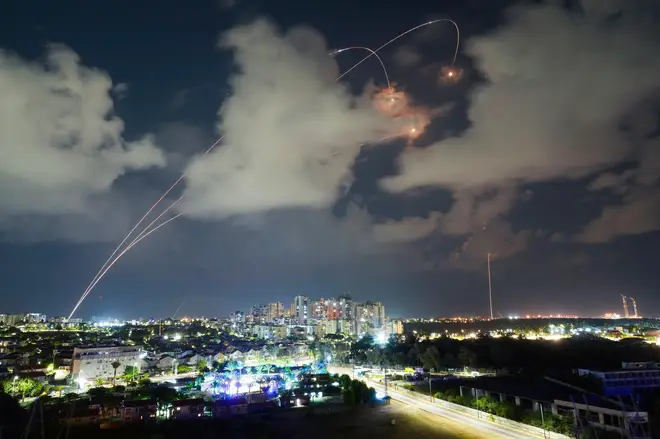 Earlier this week, Eli Cohen, Israel's foreign minister, said: "At the end of this war, not only will Hamas no longer be in Gaza, but the territory of Gaza will also decrease." It was unclear if that meant annexation or a kind of buffer zone would be imposed.
It is almost two weeks on from the day Hamas paraglided over the security barrier and breached Israel's defences before rampaging through a music festival and villages, butchering the elderly and babies and sparing some so they could abduct them.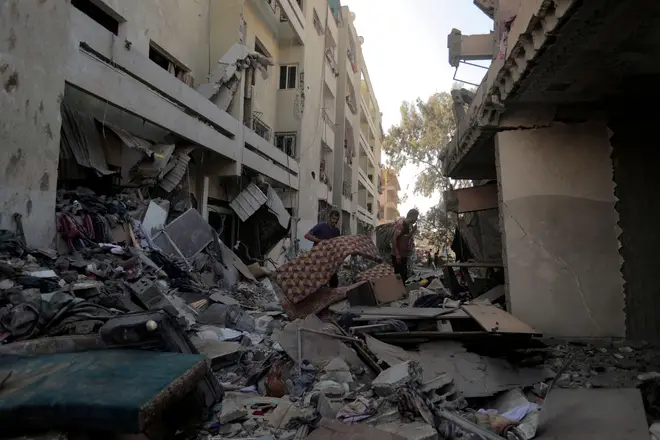 An invasion will lead to even more casualties and worsen community tensions worldwide amid mass protests for Palestine and a huge spike in anti-Semitic incidents.
But it is unclear when Israel will strike.
Lieutenant Colonel Jonathan Conricus, an IDF spokesman, said: "We will not advertise when, where, and how we will advance or do or enhance our military activities."
Soldiers are "standing by for the next stage of our operations", he added.
It comes after Rishi Sunak pledged to stand by Israel against terrorism.
"I'm proud to stand here with you in Israel's darkest hour, as your friend," he told Israeli prime minister Benjamin Netanyahu.
"We will stand with you in solidarity, we will stand with your people. And we also want you to win."
Netanyahu, who called Hamas the "new Nazis", promised troops would "win with full force".
US troops at the Ain al-Asad airbase in Iraq were attacked with drones and missiles but no casualties have been reported. An American warship, the USS Carney, intercepted three land attack missiles launched by Houthi fighters in the Red Sea.