Boris Admits: I Broke The Law By Cycling Without Light
5 November 2013, 10:20 | Updated: 26 August 2016, 17:08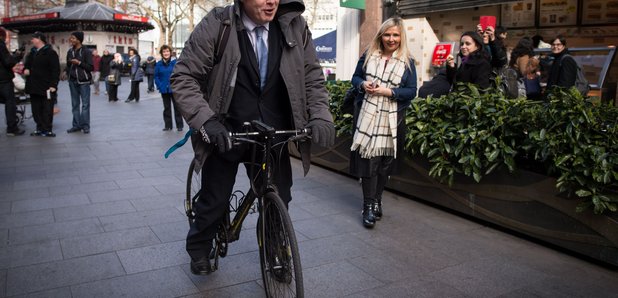 Boris Johnson admitted breaking the law when he rode his bike in the dark without a rear light.
The Mayor of London was caught out by a caller during Ask Boris on LBC 97.3 and he admitted he was "bang to rights".
Taxi driver Mark from Twickenham told the mayor: "I passed you last night in Newgate Street. You need a light on the back of your bike."
Mr Johnson admitted: "I've got to 'fess up to that. A battery was temporarily pegged out on my back light and I'm going to have to put my hands up to that.
"I had a front light that was working. I was cycling without a functioning rear light.
"Mark's got me bang to rights. I'm not going to deny it. But I can tell you it's all hands on deck trying to get a battery into that back light today."
The Mayor also said he was keen to ban rickshaws in London, but admitted it was out of his hands.
Asked if he would get the rickshaws off the roads if he could, Mr Johnson said: "We would. I don't want to be hostile to the rickshaw trade, but it is my view that they are an encumbrance on the roads.
"I am a libertarian, I think that on the whole if people want to ply their trade on the public highway, they should be allowed to.
"But I happen to think that rickshaws are a menace and, speaking as a cyclist, they push you out into the traffic where you don't want to be, they go at the wrong speed.
"I can perfectly well understand what I very, very often hear from the taxi trade that they don't see why they are on the road.
"We are taking steps to regulate them. I cannot, however, promise an immediate solution."