Vice president Harris sets out measures to limit risk of 'existential' AI threat
1 November 2023, 09:24
Kamala Harris will use a speech in the UK to stress the need for action to prevent some tech firms putting profit before protecting people.
Artificial intelligence (AI) has the potential to cause "profound harm" but can also be used to advance human rights and make the world safer, US Vice President Kamala Harris will say.
The vice president, visiting the UK for Rishi Sunak's AI safety summit, will stress that as well as the "existential threats" posed by the technology, there are also everyday risks that it could result in bias, discrimination and the spread of disinformation.
The Prime Minister called the summit in an attempt to push for the UK to play a major international role in AI regulation, but Ms Harris will stress that the US will continue to have a global leadership role on the issue.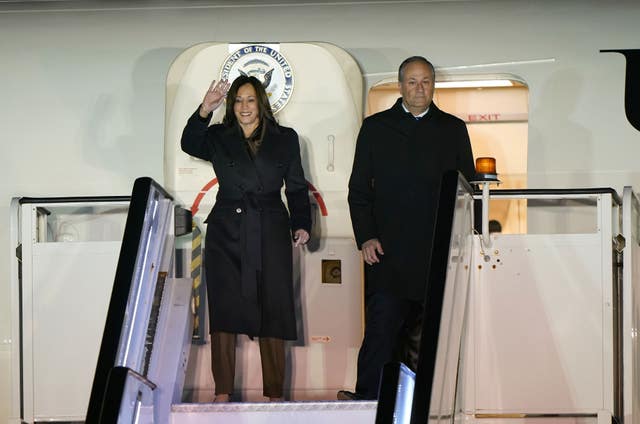 But the US AI Safety Institute (USAISI) being set up by Joe Biden's administration will work alongside its UK counterpart, the White House said.
In a speech in London, ahead of her attendance at the two-day AI safety summit being held in Bletchley Park, Ms Harris will say: "Just as AI has the potential to do profound good, it also has the potential to cause profound harm, from AI-enabled cyberattacks at a scale beyond anything we have seen before to AI-formulated bioweapons that could endanger the lives of millions.
"These threats are often referred to as the 'existential threats of AI', because they could endanger the very existence of humanity.
"These threats are, without question, profound, and demand global action.
"But let us be clear: there are additional threats that also demand our action, threats that are currently causing harm and which, to many people, also feel existential."
She will welcome voluntary commitments made by tech firms on the use of AI, but will stress that legislation could be needed to ensure safety.
"As history has shown, in the absence of regulation and strong government oversight some technology companies choose to prioritise profit over the wellbeing of their customers, the security of our communities and the stability of our democracies.
"One important way to address these challenges — in addition to the work we have already done — is through legislation, legislation that strengthens AI safety without stifling innovation."