Vice president Harris sets out measures to tackle 'full spectrum' of AI risks
1 November 2023, 17:24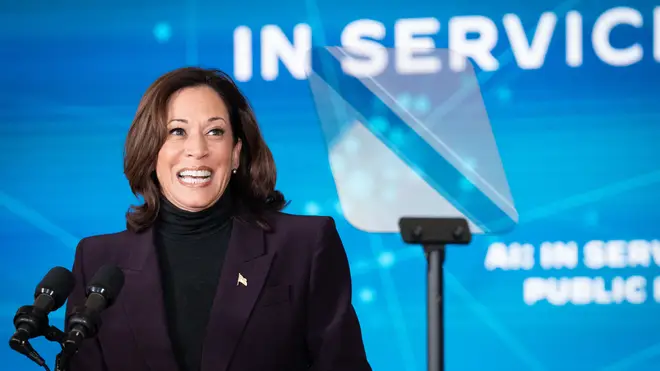 Kamala Harris set out measures to limit everyday threats as well as those to the human race.
US vice president Kamala Harris said concerns about artificial intelligence (AI) safety had to go beyond "existential" fears about threats of cyber attacks or the development of bioweapons.
The vice president, visiting the UK for Rishi Sunak's AI Safety Summit, said the "full spectrum" of the technology's risks must be tackled, including bias, discrimination and the spread of disinformation.
In a speech at the US embassy in London on Wednesday, ahead of her attendance at the two-day summit being held in Bletchley Park, Ms Harris set out measures to limit everyday threats as well as those to the human race.
The Prime Minister called the summit in an attempt to push for the UK to play a major international role in AI regulation, but Ms Harris stressed that the US will continue to have a global leadership role on the issue.
She announced the creation by Joe Biden's administration of the US AI Safety Institute, which the White House said will work alongside its UK counterpart.
Addressing an audience including former prime minister Theresa May, tech executives and opposition figures, Ms Harris said: "Just as AI has the potential to do profound good, it also has the potential to cause profound harm, from AI-enabled cyber attacks at a scale beyond anything we have seen before to AI-formulated bioweapons that could endanger the lives of millions.
"These threats are often referred to as the 'existential threats of AI', because they could endanger the very existence of humanity.
"These threats are, without question, profound, and demand global action.
"But let us be clear: there are additional threats that also demand our action, threats that are currently causing harm and which, to many people, also feel existential."
Examples she gave included a senior being "kicked off his healthcare plan because of a faulty AI algorithm", a woman being "threatened by an abusive partner with explicit deep fake photographs", and people around the world being unable to "discern fact from fiction because of a flood of AI-enabled mis- and disinformation".
She said the US government intends that its domestic AI policies "will serve as a model for global policy".
"The actions we take today will lay the groundwork for how AI will be used in the years to come," she said, adding the technology should create opportunity, advance equity, fundamental freedoms and rights.
She welcomed voluntary commitments made by tech firms on the use of AI, but noted that legislation could be needed to ensure safety.
"As history has shown, in the absence of regulation and strong government oversight some technology companies choose to prioritise profit over the wellbeing of their customers, the security of our communities and the stability of our democracies," she said.
"One important way to address these challenges — in addition to the work we have already done — is through legislation, legislation that strengthens AI safety without stifling innovation."
Downing Street brushed off suggestions the vice president's speech could overshadow proceedings in Bletchley, saying her UK visit for the summit is "great".
A No 10 source said: "It's all part of it. V pleased we have such a strong cast list from diplomatic and business community in the UK talking about AI."
Mr Biden's signing of an executive order on AI on Monday also threatened to overshadow Mr Sunak's event.
The president's order sought to "ensure that America leads the way in seizing the promise and managing the risks of artificial intelligence".
Ms Harris will represent the US at the Bletchley gathering in place of Mr Biden.
French President Emmanuel Macron, Canadian Prime Minister Justin Trudeau and German Chancellor Olaf Scholz are also not expected to attend, but Downing Street has denied the summit is being snubbed by world leaders.
Ms Harris is due to meet Mr Sunak in Downing Street later on Wednesday, a day after arriving in the UK with her husband, second gentleman Douglas Emhoff.