William 'blown away' by futuristic technology from Singapore start-ups
7 November 2023, 09:24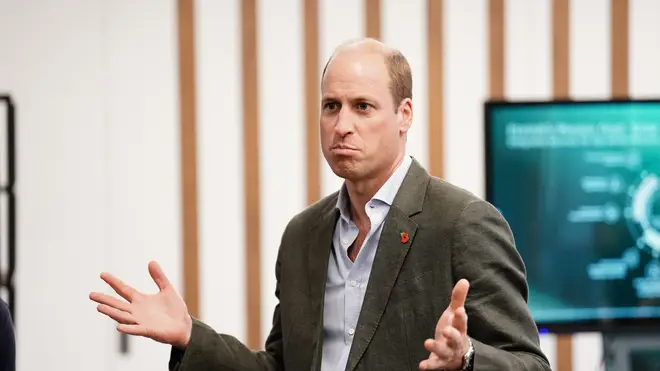 The Prince of Wales toured the EcoLabs Centre of Innovation for Energy, at Singapore's Nanyang Technological University.
The Prince of Wales said he was "blown away" by futuristic technology on show from Singapore start-ups just hours before his Earthshot Prize awards ceremony.
William toured the EcoLabs Centre of Innovation for Energy, at Singapore's Nanyang Technological University.
Hi-tech schemes for green energy included Autsren (ERI@N) which develops autonomous vehicles and long-lasting electric car batteries.
He was told how the vehicles are used to collect golf balls and also ferry staff around Singapore Zoo.
And he was told the biggest challenge facing the autonomous vehicles was being attacked by peacocks and monkeys.
The prince laughed and said: "That's not something you normally think about. They never behave, those monkeys and peacocks."
William also marvelled at a PowerCube that can store solar energy in remote locations that could power 35 small flats for a year.
And he was surprised by a start-up called ALIENA which has sent its first plasma thruster into orbit for almost two years, which can be used to measure climate data.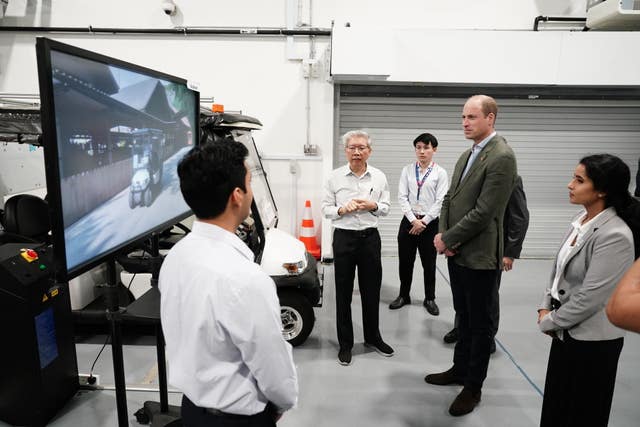 He shook his head and looked impressed and said: "You've blown my mind."
But the prince, who has a geography degree, admitted he needed to brush up on his science after eco start-up Etavolt described how they were building a circular economy for solar panels via regeneration, recycling and digitisation of performance.
William said: "It reminds me of my chemistry and physics tests. I will have to write this down when I get home."
After an intense run-down in technology of degraded solar panels, he added: "Thanks for the brush-up for my chemistry and physics."
The prince was at the labs in Singapore's Nanyang Technological University which wants to become the most eco-friendly and sustainable in the world.
It is one of 22 buildings in Singapore that is totally energy self-sufficient.
It has 19,000 solar panels and generates 9.5 megawatts of energy.
But the university cannot expand any further otherwise it would produce so much energy it would have to register officially as a power station, under Singapore laws.