Teens Fight With Knives In McDonald's As Pensioner Is Knocked To Floor
15 June 2018, 11:54 | Updated: 28 October 2019, 15:21
Chilling footage has been released of a group of teenagers fighting with knives inside a McDonald's - just months before one them stabbed a 17-year-old to death.
An elderly lady was knocked to the floor and an innocent bystander slashed as the incident erupted in Penge, south east London, last year.
The clip has now been made public after one of the boys involved was convicted of murdering 17-year-old Kyle Yule in Gillingham, Kent, last year.
CCTV shows a gang running into the fast-food chain with knives while attempting to stab each other.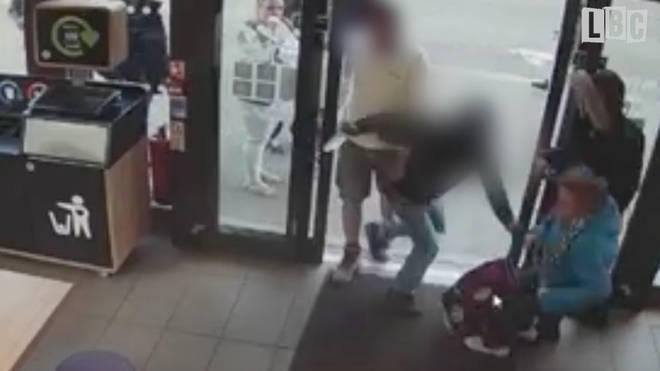 The terrifying fight spilled out onto the pavement as Tyler Ralph, of Hertfordshire, knocked a pensioner to the floor and cut a bystander's head, a court heard.
Aged just 16 at the time he was convicted of assault occasioning actual bodily harm, affray and possession of a blade.
Judge Adele Williams drew attention to his history of violence with knives - he was also convicted for possession of a blade in 2014 - when she sentenced him at Maidstone Crown Court on Thursday to detention for life with a minimum term of 16 years after the murder of Mr Yule.
She told jurors how he and four other co-defendants regularly carried knives and videos found of Ralph's phone showed him with a "fearsome array of knives and weapons".
In other footage, which can now be published after it was shown to jurors as part of the trial, he films himself brandishing a sword.
A court order continues to prevent the press fully identifying Ralph and any of his fellow co-defendants who are still under the age of 18.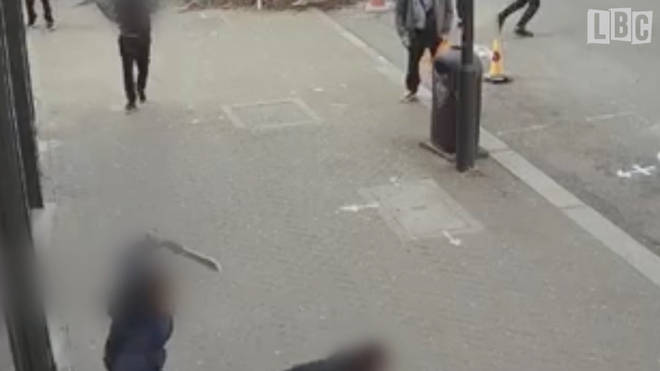 They can now be named, and the town in which they lived reported, but their faces must be obscured in any images or footage used and their street address must not be published, Judge Williams said.
Initially the media were banned by the court from publishing footage in a separate ruling after police declined to release it.
Judge Williams relaxed restrictions after both orders were challenged by reporters.