Watch: Burglars Set Off Extinguisher And Throw Hammer At Police During High-Speed Chase
16 November 2017, 13:30 | Updated: 28 October 2019, 15:21
The moment burglars rammed a police car, threw a hammer at officers and set off a fire extinguisher during a high-speed chase has been caught on camera.
Marcus Cameron and Liam Harbour reached up to 70mph as they sped through residential streets in Bury after stealing cigarettes from Maze Convenience Store.
In a bid to evade capture during the chase, the pair set off a fire extinguisher before throwing a claw hammer out of the window at the chasing police car.
They have been jailed for two years and eight months and 16 months, respectively.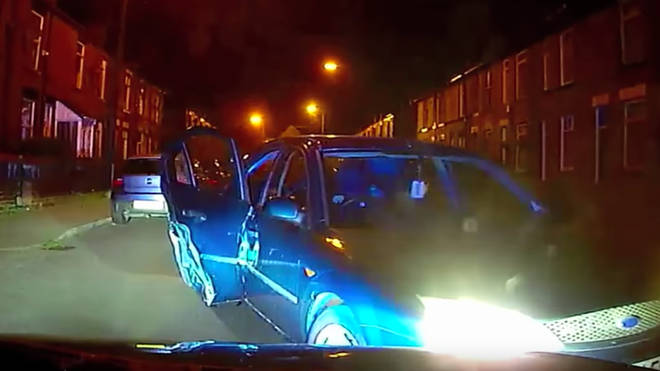 Chief Inspector Mark Dexter said: "These men did everything they could to try and evade being arrested, going as far as throwing a hammer out of a window and driving at breakneck speeds.
"They were prepared to put the lives of others at risk all for cigarettes stolen in a burglary.
"Their actions were reckless, dangerous and could have had potentially devastating consequences.These men assumed they could outsmart us and ultimately they thought they were going to get away with committing a serious crime.
"However, they are now following a different road - one which takes them directly to prison."