Storm Over The Latest Underground Ad Accused of Sexism
15 March 2017, 07:02 | Updated: 15 March 2017, 07:46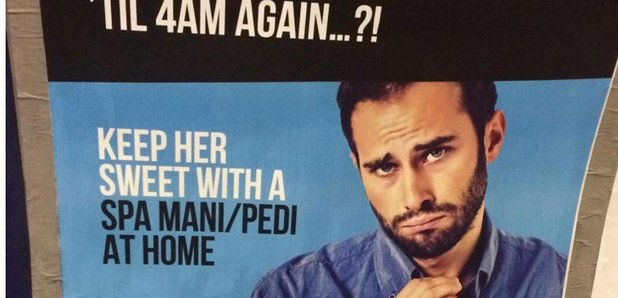 ...what do you think?
Tfl and City Hall are to investigate whether an ad adovcating that men keep their partners "sweet" with manicures is sexist.
Hey @USPAAH I found this advert pretty gross and unnecessary. Might you consider changing it for something more inclusive? pic.twitter.com/4vZF1evtRQ

— Milly Thomas (@missmillythomas) March 9, 2017
Just weeks after a row about a Kardashian in a revealing outfit, London-based beauty app USPAAH - which offers mobile spa treatments - sparked more outrage on social media.
Silly me, I forgot this was the 1950s and all that's needed to make a woman happy is to buy her a pedicure. @USPAAH this is @EverydaySexism pic.twitter.com/MyQn95OG24

— Charlotte P Sexton (@Char_Peake) March 11, 2017
It features a man's mock sad facial expression beside the text: "Out with the guys 'til 4am again…? Keep her sweet with a spa mani/pedi at home."
Some are saying it suggests women can be bought off by gifts and accused the advertisers of peddling "1950s attitudes" to women. Others disagree:
@USPAAH @Femail Stand your ground amid all this insanity, USPAAH. Soon it'll be considered sexist to buy a woman flowers!

— James Darcy (@JamesDarcy_NYC) March 14, 2017
The company is not just defending the ad, it's responding on Twitter to the criticism:
@Poppy_Corbett How interesting that you think if one receives a gift, they're "stupid". Must stop gift giving worldwide ASAP. #BanXmas too?

— U S P A A H (@USPAAH) March 10, 2017