'This is not a good time for anti-Semitism': Dame Margaret Hodge worried by Jewish discrimination after Hamas attack
9 October 2023, 17:13 | Updated: 9 October 2023, 17:36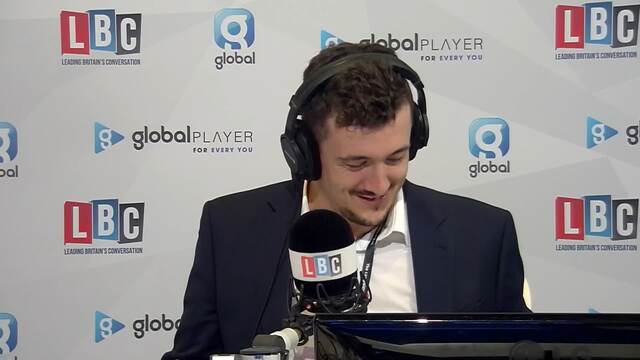 'Eradicating antisemitism from Labour has been successful': Dame Margaret Hodge
Corbyn critic and long standing Labour MP Dame Margaret Hodge tells LBC that 'anti-Semitism has been eradicated from Labour' but she is worried about anti-Semites' reaction to the Hamas attack.
Talking to LBC's Henry Riley from the Labour Party conference in Liverpool, Dame Margaret Hodge reflected on the Israel-Gaza conflict: "It's unimaginably horrific and deeply, deeply disturbing for the future of peace in the Middle East."
"At this moment in time, this is not a good time for anti-Semitism worldwide," the Labour MP said.
"What has happened in Israel has incited anti-Semitism here in the UK. So we have seen a Kosher shop being damaged, we've seen Free Palestine on a bridge in Golders Green.
"In America it's been worse, I've seen pictures of Palestinian demonstrators with swastikas."
READ MORE: More than ten Brits feared dead or missing in Israel as rocket attacks continue
Henry asked Dame Margaret Hodge if she felt "saddened" by the state of anti-Semitism across the UK, especially after her own efforts to tackle the issue.
"As far as the campaigning I did to eradicate anti-Semitism from the heart of the Labour Party, that has been successful," she declared, "It's the one thing Keir Starmer has been brave [about], he has been consistent, he has been forceful. He has shown zero tolerance for anti-Semitism in my party."
"But as you talk to me today, this is not a good day for anti-semites," she said of those demonstrating in support of Hamas.
"The impact that that this tragedy has had on encouraging a new wave of anti-Semitism is scary."
Dame Hodge said as a country we should be "prepared to give every inch of help that we can" to Israel because it is "our ally and friend".
"I do worry about families in Golders Green. I worry about anti-Semitism across the country... every single Jewish school has to have strong security around it, what does that say about the state of our nation when it comes to that?"
She told Henry that during her time in parliament and her time campaigning against Jewish discrimination she has "learnt to be resilient to anti-Semitic attacks".
The long standing MP for Barking will be stepping down at the next election but was confident in her belief that Labour is ready for parliament at the next election.
READ MORE: 'Don't kill me': Hostage's desperate plea to Hamas kidnappers as more than 100 held captive
"We should talk about this as a terrorist attack," the MP said as she noted the staggering death toll. She said this also with an understanding that there are many Palestinians who "seek to live peacefully side by side" the Jewish community in Israel.