LBC's Campaign To Get Knives Off The Streets
5 September 2016, 07:00 | Updated: 20 September 2016, 15:17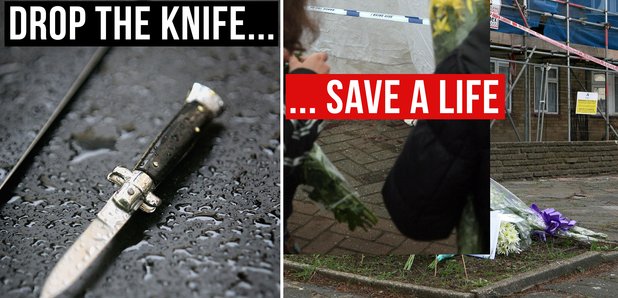 Nick Ferrari launched LBC's Drop The Knife, Save A Life campaign - raising awareness about the dangers of carrying a knife.
Knife crime in London has risen by 16% in the past two years, with blades involved in the death of at least 10 young people on the streets of London since January.
Nationally knife offences were up last year - there were 28,664 incidents across the country in 2015-16, a 10% rise on the previous 12 months.
In July London's mayor Sadiq Khan said that a knife crime summit would be held at City Hall in October to try and deal with the growing problem and we'll be speaking to the Mayor later in the week.
These are some of the features we brought to you during the campaign:
- The powerful message to youngsters who carry a knife
- Spoke to one young man who used to carry a knife
- We see how youths are hiding knives in public parks
- The campaign led to 50% rise in reports to Crimestoppers
To understand fully the devastating effects of knife crime, our reporter LBC's Charlotte Wright has spoken to one mum who lost her son to knife crime.
Independent charity Crimestoppers believes individuals and communities have a right to be safe from crime and the fear of crime. They enable people to pass on information in complete anonymity. Contact their call centre on 0800 555 111 or visit their website and use the non-traceable online form to provide information about knife crime.
Alternatively if you have a knife you want to give up then you make use of the knife bins on this map.
The bins are at these locations:
The Salvation Army Church: 240 Ripple Road, Barking, Essex IG11 7DJ
All Souls Harlesden: 3 Station Road, London NW10 4UJ
Sainsbury's: Purley Way Branch, Trafalgar Way, Croydon CR0 4XT
Sainsbury's: Selsdon Branch: 130 Addington Road, South Croydon CR2 8LA
Edmonton Methodist Church: 300 Fore Street, Edmonton, London N9 0PN
Sainsbury's Greenwich Branch: 55 55 Bugsby's Way, Greenwich SE10 0QJ
All Saints Church: Haggerston, Hackney E8 4EZ
The New Testament Church of God: Cricketfield Road, London E5 8NS
St Ignatius Catholic Church: 27 High Road, Stamford Hill, London N15 6ND
St John-at-Hackney Church: Lower Clapton Road E5 0PD
Miller Memorial Methodist Church: The Avenue, London N17 6TG
Muswell Hill Baptist Church: Dukes Avenue, Muswell Hill, London N10 2PT
Westbury Avenue Baptist Church: Westbury Avenue, Haringey, London N22 6SA
Wealdstone Methodist Church: Locket Road Wealdstone
High Street Feltham: (opp Halifax BS), Feltham, Middlesex TW13 4AU
Hounslow Evangelical Church: 186 Hanworth Road, Hounslow TW3 3TR
St George's Church: Castle Way, Hanworth Park, Feltham, Hounslow, Middlesex TW13 7NL
All Saints Church: Carnegie Street, London N1 9QW
St Mark's Church: 1 Moray Road, London N4 3LD
Sainsbury's: Streatham Common Branch: 480 Streatham High Road SW16 3PY
St John the Evangelist Church: Angell Town, Wiltshire Road, Brixton SW9 7NE
St Mark's Church: 37 Kennington Park Road, London SE11 4PW
Sainsbury's: New Cross Gate Branch, 263d New Cross Road, Lewisham SE14 5UQ
The Orchard Community Hall: 150 Broadmead Road, Woodford IG8 0AG
Seven Kings Methodist Curch: Seven Kings Road, Redbridge, Ilford IG3 8DQ
Herne Hill Baptist Church: Half Moon Lane, London SE24 9HU
The Latter Rain Outpouring Revival Church: 50 Copleston Road, Peckham, London SE15 4AD
Wesleyan Christian Centre: 1 Harrow Green Road, Leytonstone, London E11 3HP
Harrow Road, Near Recycling Area
Lisson Grove