US Presidential Debate: Ten Things We Learned
20 October 2016, 03:36 | Updated: 20 October 2016, 10:32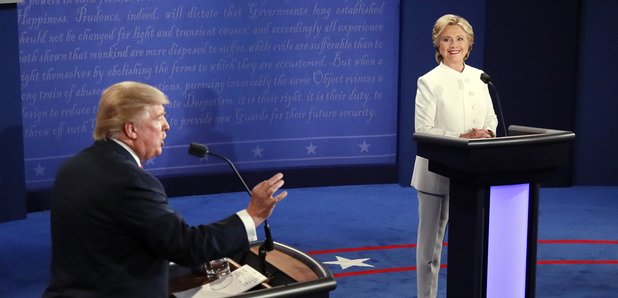 Hillary Clinton faced Donald Trump for their final televised showdown and as always with those two, it got sparky. Here's what we found out.
1. Donald Trump Refuses To Accept (Potential) Defeat

In one of the most remarkable moments of all three debates, Donald Trump continued to claim the election result might be rigged. "I'll look at [the result] at the time," he told moderator Chris Wallace. "I will keep you in suspense." Hillary Clinton's reaction to those comments? "Horrifying."

2. The Candidates' Families Did NOT Shake Hands
...breaking with tradition. The reason why? Reportedly the Clinton campaign was worried that Trump and his team would "pull a stunt" and so requested that the handshakes be scrapped.
3. TrumpTV Could Be On The Way
Ahead of the debate, Trump's team essentially created their own TV channel with a preview of the debate. It was political broadcasting Trump-style: big opinions and lots of favourable things said about the tycoon. It's reported that Trump's son-in-law has already looked into whether a Donald TV station might be a viable option. Could this be what The Donald does after his bid for the White House?

4. Donald Trump Would Be A Pro-Life President
The first proper clash of the debate came with discussion of abortion legislation. Using very emotive language about "ripping the baby out of the womb of the mother", Donald Trump went after Hillary Clinton's pro-choice stance. But as some commentators noted, the exchange gave Hillary a chance to lock down her support amongst female voters:
Clinton, thrilled at the opportunity to speak to women voters: "I will defend Planned Parenthood...Roe vs Wade...and women's rights"

— Simon Marks (@SimonMarksFSN) October 20, 2016
5. Hillary Blames Vladimir Putin For Wikileaks
Clinton was asked about open borders in relation to a speech she gave to a Brazilian bank - a speech that we now know she was paid handsomely for, thanks to Wikileaks. Hillary used the question as a chance to point the finger at Russia for hacking attacks on the US, saying that Vladimir Putin was directly responsible for the attacks.
6. The Moderator Was No "Potted Plant"
Chris Wallace of Fox News drew almost immediate praise for how he handled the debate, which started with the most serious policy discussion seen in any of the three events. And when Trump continued to interject? Wallace was quick to let him know.
Chris Wallace is just amazing at this.

— Farhad Manjoo (@fmanjoo) October 20, 2016
Wallace: "I am not a potted plant here, I do get to ask some questions". Best moderation we've seen in years.

— Simon Marks (@SimonMarksFSN) October 20, 2016
7. The Audience Chuckled At Trump's Comments About Respecting Women
"Nobody has more respect for women than I do. Nobody." After the weeks of allegations that have dogged Trump in relation to his treatment of women, this one was bound to spark some audience reaction. It did: sporadic laughter from several members of the public - quickly quietened by Chris Wallace (see above).
8. Trump's Got The "Bad Hombres" In His Sights
It might be easiest to let the Republican candidate explain this one in his own words.
9. Hillary Seems To Have Won
Although Trump won some praise, US political commentators afterwards were praising it as one of Hillary's strongest debate performances ever. Trump lashing out and calling Clinton a "nasty women" in the closing moments sealed the deal for many.
Do you agree?
Hillary still shaking hands. Trump already left the building. Tells you everything you need to know.

— Tad Devine (@taddevine) October 20, 2016
10. JK Rowling Doesn't Care If Trump Fans Hate Her
Well, there you have it. A highly intelligent, experienced woman just debated a giant orange Twitter egg. Your move, America. #debate

— J.K. Rowling (@jk_rowling) October 20, 2016