Paranoid Schizophrenic Admits Violently Mugging 92-Year-Old Widow
15 August 2017, 13:21 | Updated: 22 August 2017, 09:54
A paranoid schizophrenic has admitted brutally mugging a 92-year-old woman which left her with horrific injuries.
Sanchez Edwards, 28, violently attacked Gladys Scriven in broad daylight as she was out posting a letter in Hackney on June 27th 2017.
The criminal had been had been missing from a mental health unit for six weeks prior to the robbery, Wood Green Crown Court was told on Tuesday.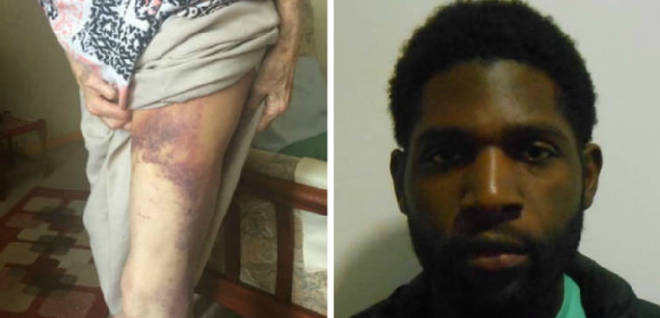 Appearing via video link, Edwards, who was bearded and wore a green T-shirt, admitted one count of robbery.
A second charge of grievous bodily harm was dropped from the case.
Jurors heard Edwards had been missing from the John Howard Centre medium secure unit since May before he was arrested in July for the mugging.
CCTV of the attack showed Ms Scriven desperately cling on to her handbag as Edwards dragged her along the east London pavement.
Police said she managed to resist until she was in "so much pain she eventually let go".
Edwards made off with the handbag, which contained a £50 Virgin mobile phone, a Freedom Pass, documents and £100 cash.
The 92-year-old had recently lost her husband of nearly 70 years and was left incredibly distraught and afraid to leave her house, detectives said.
The judge has ordered a psychological report before Edwards is sentenced at Wood Green Crown Court on October 10.
The 28-year-old has been remanded in police custody until sentencing takes place.