Mayor Sells Boris' Water Cannon For Scrappage, Losing Over £300k
19 November 2018, 09:59 | Updated: 19 November 2018, 14:07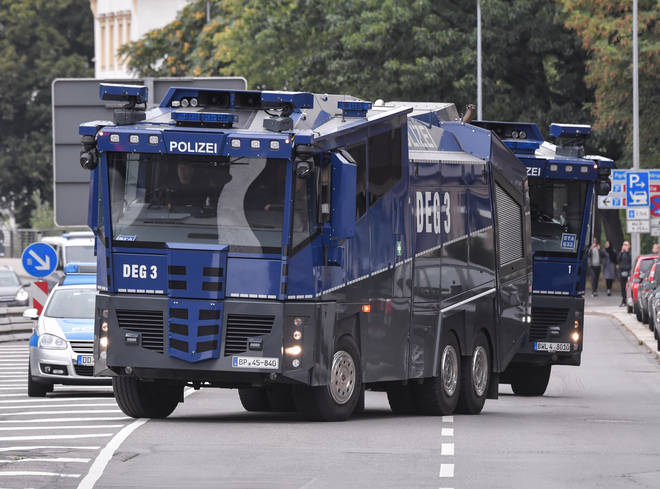 Sadiq Khan has sold the water cannon Boris Johnson bought but was never allowed to use for scrap.
The redundant water cannon were purchased for £85,000 by Mr Johnson in 2014 and costs spiralled to £320,000 to make them useable.
However, he was never given a licence to use them from then Home Secretary Theresa May and they sat unused for four years.
The current Mayor of London told LBC in May that he was trying to sell them but was unable to find a buyer.
He's now revealed that he has sold them for scrappage, getting £11,025 from a reclamation yard in Nottinghamshire for the three machines.
All of the money raised will go to youth and community services to help fund projects tackling violence on the streets of London.
Mr Khan said: "For too long, London taxpayers have had to bear the brunt of Boris Johnson's appalling botched water cannon deal. This has been another waste of taxpayers' money by Boris Johnson. Londoners continue to live with his vanity.
"I am pleased we have managed to finally get rid of them and I made an election promise to Londoners that I would claw back as much of this cash as possible, and pump it into helping young people at risk of being affected by crime and giving them better life opportunities.
A source close to Mr Johnson: "Boris made tackling crime his number one priority when he came into office in 2008.
"During his time as mayor he reduced the murder rate by 50 per cent and brought overall crime down by 20 per cent. This is a legacy the new mayor has sadly been unable to match."
Full Cost Of Boris' Water Cannon
Purchase of vehicles and initial fit-out
Cost of vehicles - £85,022.01
Transport to UK - £20,223
Transport within UK - £3,800.01
Supply and fit of warning equipment - £8,584.50
Supply and fit of 999 sirens - £3,109.20
Supply and fit of CCTV systems - £19,376.70
Supply and fit of external/internal intercom system - £4284.30
Supply and fit of PA system - £4288.80
Repainting - £19,035
Supply and fit 'Battenberg' police vehicle markings - £4,538.70
Supply and fit Motorola MTM800 radios - £2,708.10
Signage - £3,511.50
Body work repairs due to corrosion - £4,911.15
Mass storage devices - £434.10
Tachograph inspections - £194.10
Radio/CD players - £970.50
Water jet camera housings - £4095.60
Front camera brackets - £2059.20
Tool kits - £986.40
Conversion to UK specification and service parts - £30,625.96
MOT tests - £1,688.04
UK Registration - £499.98
Sub-total - £224,946.85
Additional modifications carried out following Home Office requirements and recommendations:
Internal camera system - £2,477.40
Modification of water jet brackets - £1,909.20
Maintenance, service and inspection
Low Emission Zone compliance - £32,004
Assistance with trials - £12,578
2014/15 - £20,880
2015/16 - £21,866.04
Wear and tear - £6,173.22
Total – £322,834.71