Sadiq Khan Confirms £10 'Toxicity Charge' As Part Of Pollution Crackdown
17 February 2017, 09:50 | Updated: 17 February 2017, 09:55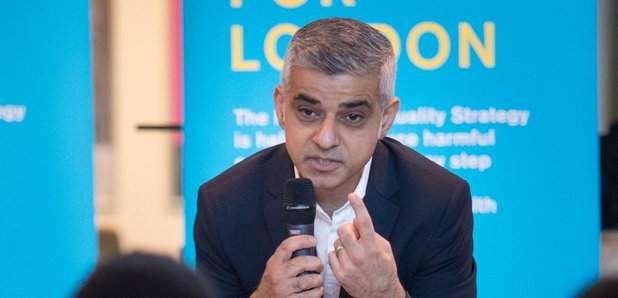 The Mayor of London has confirmed that motorists driving "the most polluting vehicles" will pay an extra £10 when driving in the capital.
Sadiq Khan today (Friday) confirmed that as of October, motorists driving the most polluting vehicles will have to pay a £10 Toxicity Charge, or 'T-Charge', on top of the Congestion Charge.
This will be applied during the same operating times as the Congestion Charge (Monday-Friday 7am-6pm), meaning a total cost of £21.50, and will commence from October 23 - the first day of half term.
The charge is set to affect up to 10,000 of the oldest pre-Euro 4 vehicles currently driving in the capital as part of an attempt to reduce rising emissions.
The crack-down is set to be the toughest emission standard of any world city, affecting the vast majority of pre-2006 vehicles.
The Mayor of London, Sadiq Khan, said: "It's staggering that we live in a city where the air is so toxic that many of our children are growing up with lung problems. If we don't make drastic changes now we won't be protecting the health of our families in the future."
He went on: "Londoners overwhelmingly support my plans to introduce this £10 charge because they feel when it comes to battling pollution the time for action is now.
"The T-Charge is a vital step in tackling the dirtiest diesels before I introduce the world's first Ultra Low Emission Zone as early as 2019.
"I will continue to do everything in my power to help protect the health of Londoners and clean our filthy air. But now is the time for Government to show real leadership and join me by introducing a diesel scrappage fund and bring in the new Clean Air Act we desperately need."
The Mayor has also launched a free online vehicle tracker so drivers can check whether their vehicles will be affected.