Croydon Tram Going 3.5 Times Over Speed Limit When It Crashed
16 November 2016, 14:16 | Updated: 16 November 2016, 15:50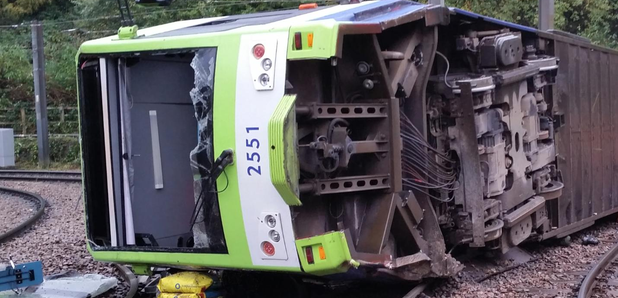 The tram which crashed in Croydon killing seven people was travelling at 3.5 times the speed limit, an investigation has found.
- "I thought I would die": Powerful account from Croydon tram survivor
The Rail Accident Investigation Branch found that the tram was travelling at 43mph, while the section of track had a speed limit of just 12mph.
The tram derailed and overturned as it approached Sandilands Junction at 6.07am on Wednesday 9th November.
The investigation has found no evidence of track defects or a malfunction of the tram's braking system.
Croydon MP Gavin Barwell told LBC's Shelagh Fogarty that since the tram crash constituents have told him about other trams travelling too fast:
While investigations are on-going, the RAIB issued "urgent safety advice" to First Group, which is responsible for day-to-day operation of the trams, and Transport for London, which manages the overall performance of the network.

They were urged to take measures to reduce the risk of trams approaching the location of the crash "at an excessive speed", suggesting a further speed restriction before the 12mph limit.
The driver of the tram was arrested on suspicion on manslaughter and was later bailed by police. He has not been charged.
The seven people killed in the crash were Dane Chinnery, 19, Philip Logan, 52, Philip Seary, 57, Dorota Rynkiewicz, 35, and Robert Huxley, 63, all from New Addington, and Mark Smith, 35 and Donald Collett, 62, both from Croydon.

A further 51 people were taken to hospital, with eight of them suffering injuries described by London Ambulance Service as serious or life-threatening.