"Mealy-Mouthed" Muslim Tweet: Man Arrested
23 March 2016, 11:14 | Updated: 11 August 2016, 11:40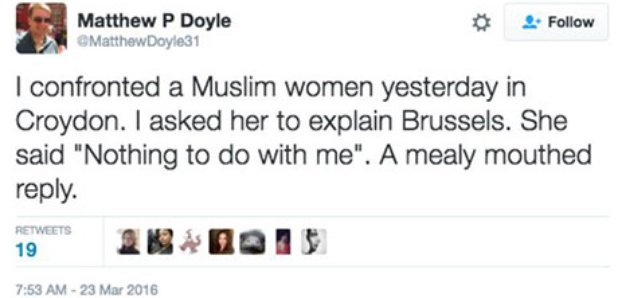 The man whose tweet about confronting a Muslim woman in Croydon about the Brussels terror attacks went viral, has been arrested.
Matthew Doyle tweeted: "I confronted a Muslim women (sic) yesterday in Croydon. I asked her to explain Brussels. She said "Nothing to do with me". A mealy mouthed reply."
That tweet, which has since been deleted, was ridiculed across the internet.
I confronted Croydon and asked it to explain @MatthewDoyle31. Nobody had heard of him. A mealy mouthed reply.

— Rupert Myers (@RupertMyers) March 23, 2016
And then his tweet became a Twitter meme:
I confronted an Irish woman. I asked her to explain "Mrs Brown's Boys: Da movie". She said "nothing to do with me". A mealy mouthed reply.

— @ (@twlldun) March 23, 2016
I confronted a German about bombing my Grandad's shed in WW2. "Nothing to do with me". A mealy mouthed reply. https://t.co/ruWmkFUsOK

— chinnyhill10 (@chinnyhill10) March 23, 2016
I confronted a woman yesterday in Croydon. I asked her to explain Vienna. She said "It means nothing to me". A mealy mouthed reply.

— Simon Pegg (@Simon_Pegg) March 23, 2016
But the Met Police took a dim view of his tweet. Croydon's branch of the Met tweeted:
Suspect arrested for inciting racial hatred on twitter #ZDERTD #WeStandTogether #Croydon #Community @CroydonAd pic.twitter.com/BcjcKAPrFl

— Croydon MPS (@MPSCroydon) March 23, 2016