Thames Path "Wall" At Greenwich Infuriates Londoners
24 October 2016, 09:35 | Updated: 24 October 2016, 09:53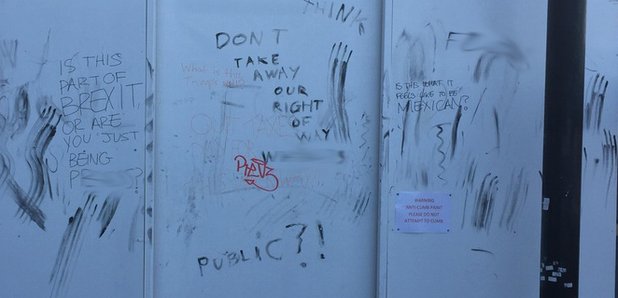 A temporary barrier blocking off the Thames Path at Greenwich has come under fire online, sparking some locals to leave hilarious (and x-rated) graffiti on it.
With construction scaffolding visible in the background, it seems the barrier is there as a temporary safety measure. "Warning: anti-climb paint. Please do not attempt to climb" warns a sign on it.
That hasn't stopped some pedestrians venting their fury through graffiti and online comments: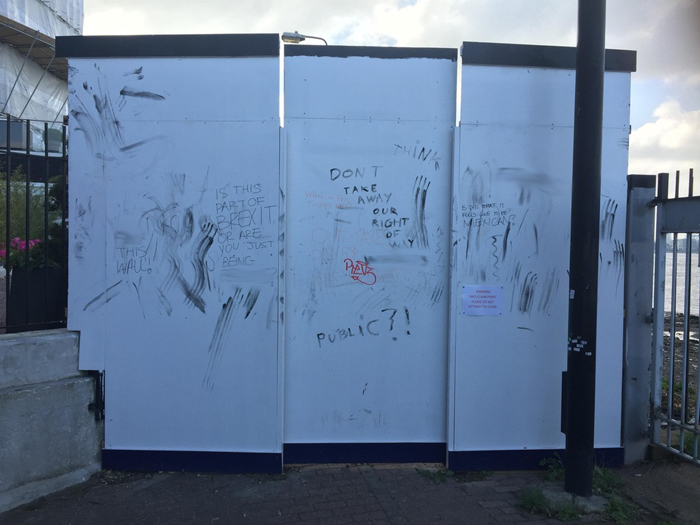 (Image courtesy Hates_/Reddit)
"Don't take away our right of way w***ers," says one message.
"Is this what it feels like to be Mexican?" asks another.
"F*** this wall!" is one rather less witty missive on the "wall", while one scribbler really hits the nail on the topical head with this: "Is this part of Brexit or are you just being p***ks?"
Posted on the social media site Reddit, users have pointed the finger at "pain in the a**e developers" who they say frequently close off pieces of the Thames Path in order to carry out building works. However another user suggests the closure of the path is due to repairs to the Thames wall.
User rboff points out why so many people are mad though: "The lack of warning is really annoying though!
There is a tiny laminated bit of paper with tiny writing attached to a lamp post half a mile before this wall."