Stranded Seal Sparks Major Rescue Operation
13 October 2016, 12:24 | Updated: 13 October 2016, 12:36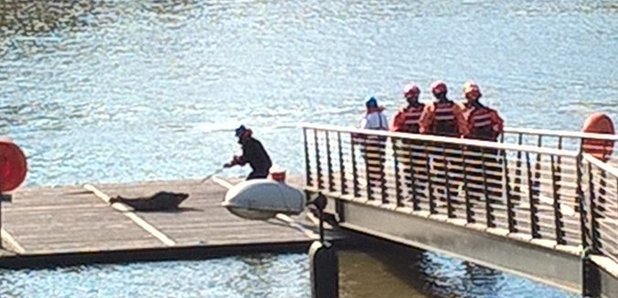 A stranded seal on a pontoon in Brentford sparked a major rescue operation on Thursday.
The Fire Brigade and the RSPCA were both involved in the operation to rescue the stranded seal from the pontoon near Kew Bridge in Brentford.
Andy Walton, from the Fire Brigade, said: "we've were called by the RSPCA and fire crews were there to ensure the safety of RSPCA officers."
"The RSPCA officers safely caught the seal in a noose and placed it on a rescue mat. With the help of firefighters the seal was carried via a pedestrian bridge into an animal ambulance."
"The rescue was a success and the watching public clapped from the banks of the river."
The incident was over by 11.30am. Two fire engines and two fire rescue units were at the scene.
Police have warned the seal are wild animals and should not be approached by members of the public.