Brexit: Boris Johnson's trade deal given royal assent by the Queen
30 December 2020, 14:44 | Updated: 31 December 2020, 00:44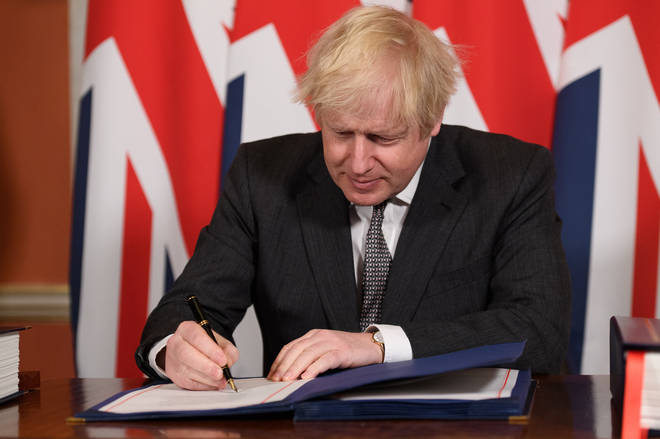 Boris Johnson's Brexit deal has been given royal assent by the Queen after MPs and Peers approved the Bill in Parliament on Wednesday.
The bill was fast-tracked through the House of Commons in just over four hours, despite protests from the SNP.
It then moved to the House of Lords where the legislation received an unopposed third reading by Peers.
The legislation was then given royal assent by the Queen at 12:25am on Thursday morning.
The 448 majority in the Commons comes after Labour MPs were whipped to vote in favour of the deal, with Sir Keir Starmer arguing a "thin deal" was better than a No Deal Brexit.
After receiving the Monarch's approval, it will take effect at 11pm on Thursday when the current transition period ends.
Read more: Theresa May says Sir Keir Starmer should have voted for her 'better' Brexit deal
Opening the debate Prime Minister Boris Johnson argued the trade deal achieved "something that the British people always knew in their hearts could be done, but which we were continually told was impossible".
"We were told we could not have our cake and eat it... namely that we could trade and cooperate with our European neighbours on the closest terms of friendship and goodwill, whilst retaining sovereign control of our laws and our national destiny."
Mr Johnson claimed the deal "demonstrates... how Britain can be at once European and sovereign".
Read more: Brexit deal will bring 'new chapter' for UK, Boris Johnson says
The vote comes just a day before the Brexit transition period ends, with Labour leader Sir Keir Starmer telling the Commons he is supporting the bill on the basis that there is "no better deal coming in the next 24 hours".
"When the default is no deal it's not a mark of how pro-European you are to reject implementing this treaty," he said.
"It isn't in the national interest to duck a question or to hide in the knowledge that others will save you from the consequences of your own vote.
"This is a simple vote with a simple choice: do we leave the transition period with the treaty negotiated with the EU or do we leave with no deal?
"And so Labour will vote to implement this treaty today."
Read more: ERG Tory Brexiters agree to vote for Brexit deal
However, the SNP's Westminster leader, Ian Blackford, condemned the deal as "an act of economic vandalism" and attacked Labour for failing to oppose it.
"I am sad to say that the official opposition has been missing in action. I can understand that this might be politically pragmatic for Labour but it definitely isn't politically principled," he said.
Read more: Sir Keir Starmer faces high-profile revolt over support of Brexit deal
Sir Keir also came under fire from former Prime Minister Theresa May, who told the Commons she had listened "with some incredulity" to Sir Keir's assessment of Mr Johnson's agreement.
"He said he wanted a better deal," she said. "He had the opportunity in early 2019 when there was the opportunity of a better deal on the table and he voted against it, so I will take no lectures from the leader of the opposition on this deal."
Mrs May added during Wednesday's Brexit debate: "Today is the time, as I have said before, to put aside personal and party political interests which sadly too many have followed in the past, vote in the national interest of the whole UK and support this bill."