Desperately Seeking Dorries: My quest to find the local MP for Mid Bedfordshire, by Henry Riley
17 August 2023, 11:56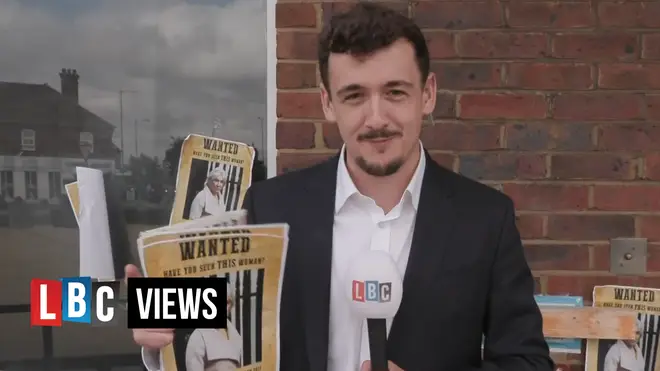 The last time Nadine Dorries spoke in Parliament, Queen Elizabeth II was our monarch, Boris Johnson was the Prime Minister and Nigel Farage was a happy customer at Coutts Bank.
It has now been over 400 days since the former Culture Secretary last contributed in the House of Commons, leading to criticism from her political opponents, but also concern from her constituents here in Mid Bedfordshire.
What exactly have they been saying? And what is their feeling towards the local MP?
I've been sent as Chief Bounty Hunter to one of the largest areas in Ms Dorries' seat, the leafy town of Flitwick. It's a quiet and friendly community with a couple of pubs, a large supermarket and a fantastic local café. But in short, I am here for one reason only – to locate the incumbent MP.
Armed with a full-page "wanted" advert in the local paper - the Bedford Times and Citizen, a handful of posters and a microphone I certainly have a head start – but I have perhaps underestimated the scale of the challenge.
As soon as I arrived off the train from St Pancras International on Wednesday evening it is apparent that people are only-too-willing to speak about their MP. Local shop owners and residents claim they "haven't seen her in years".
They also note that Dorries, who has been the MP here since 2005, has done "f**k all for Flitwick", and a new one on me – that she has achieved "absolutely sausage" (which I'm led to believe means nothing).
Nadine Dorries said, during her maiden speech in May of 2005, that she would "use the House [of Commons] to highlight the concerns of my constituents, and what matters to them", whilst also adding "I promise to do my best and to base everything I do on integrity".
But speaking with people across the town – mostly coming and going from Flitwick Railway Station – they feel that she has "lost touch". One shop owner told me the last time they saw her was not in the constituency, but rather on TV show I'm A Celebrity back in 2012.
Bestselling author Nadine Dorries was often seen as the 'attack dog' for Boris Johnson when he was Prime Minister, but she is perhaps losing friends in the Conservative Party. Prime Minister Rishi Sunak recently told Nick Ferrari that "her constituents deserve to be represented" – a not-so-subtle swipe at somebody who has been a thorn in his side since he entered Downing Street.
People here in Flitwick were very helpful. Lee, a handyman who I met in the flagship local coffee-spot, The Café Latte, helpfully drove around and spotted a sign on a main road into Milton Keynes which read "Dosser Dorries".
However, despite their best efforts and good nature, they were unable to help me track down Nadine Dorries.
It has now been over two months since she pledged to resign as an MP "with immediate effect". The wait for her long-overdue appearance in Parliament goes on – but the clock is also ticking for her to make an appearance here in Flitwick.
In short, mission failed.