Boris Johnson sets out post-coronavirus job and training plan for adults
29 September 2020, 11:52 | Updated: 29 September 2020, 14:18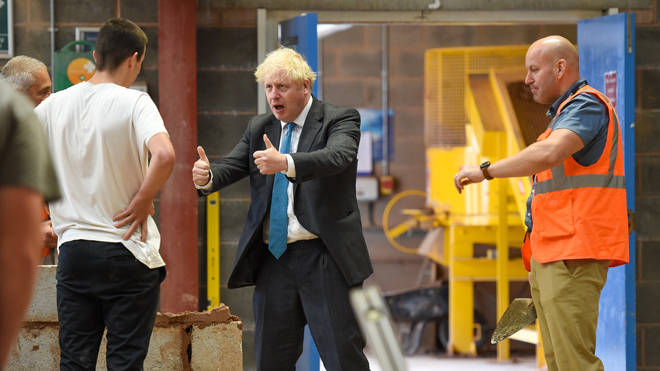 The Prime Minister has laid out plans to give "practical skills" to anyone who needs them at any stage in life if they have lost their jobs due to the coronavirus crisis.
In a speech at Exeter College in Devon Boris Johnson said: "We're not giving anywhere near the amount right of support of young people who don't want to go to university. 
"The result is - business isn't happy, the economy is under-productive and many working adults are stuck in jobs without much future.
"So it's time for change - radical change. 
Read more: Boris Johnson apologises after getting rule of six wrong
"We will be expanding apprenticeships.
"And we're going to change funding model so it's just as easy to get a student loan for a Further Education course than it is to do a three-year degree at a university."
Mr Johnson said the UK is suffering from a shortage of skilled builders, mechanics, engineers and IT experts.
"Somehow, our post-18 educational system is not working in such a way as to endow people with those skills," he said.
Mr Johnson said the coronavirus pandemic had exposed the "shortcomings" of the UK's educational system.
He wants to ensure there are "life-long" skills retraining opportunities.
The Prime Minister suggested that some jobs in traditional shops, pubs or restaurants may be gone for good.
Boris Johnson said: "Before Covid people were already shopping ever more online, were already sending out for food."
Coronavirus "has compressed that revolution", he said.
"Let's imagine that you are 30 years old, you left school without A-levels and you are thinking - you were in retail or hospitality - you could find a job in the wind farm sector in the North East, or in space technology in Newquay or in construction here in Exeter."
The Prime Minister said: "The British economy is in the process of huge and rapid change, driven by the internet and the possibilities of remote communication.
"But as old types of employment fall away, opportunities are opening up with dizzying speed - vast new sectors in which this country already leads or can lead the world."
But he said the UK had fallen behind other countries in technical skills, partly due to "snooty" attitudes to vocational qualifications.
The country had also been "hamstrung" by a lack of investment in infrastructure and "antiquated" planning rules, he said.