PM Looking "Considerably Weaker" After Fallon's Resignation - Andrew Pierce
1 November 2017, 20:27 | Updated: 1 November 2017, 20:36
Andrew Pierce has told Nigel Farage the Prime Minister is looking "considerably weaker" after the Defence Secretary announced his resignation on Wednesday.
In a letter to Theresa May, Sir Michael Fallon wrote: "A number of allegations have surfaced about MPs in recent days, including some about my previous conduct.
"Many of these have been false but I accept that in the past I have fallen below the high standards that we require of the Armed Forces that I have the honour to represent.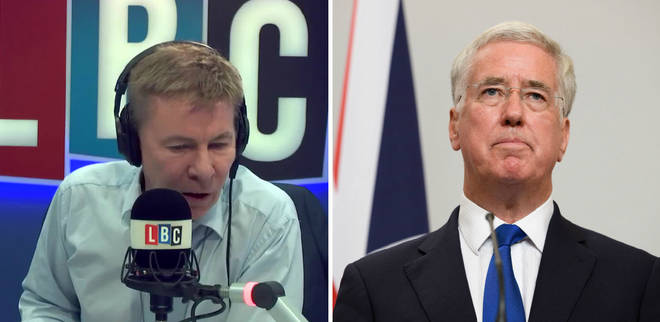 "I have reflected on my position and I am therefore resigning as Defence Secretary."
It comes days after Sir Michael apologised for putting his hand on a journalist's knee, however Andrew said he felt there was more to come.
Speaking on Wednesday night, he told Nigel: "There's been a lot of innuendo flying about Michael Fallon I have to tell you in the last few days and he's fallen on his sword.
"I suspect it will come out in a matter of days."
The consultant editor for the Daily Mail added: "This is the sort of iceberg that a weak Prime Minister cannot afford.
"If she'd won that election with a larger majority she could relax… but she has no majority and now she's looking considerably weaker."
Stayed tuned to LBC for the latest on this story.