John McDonnell Says He "Will Sort" Any Abusive People At Labour Conference
25 September 2017, 10:35 | Updated: 25 September 2017, 13:40
John McDonnell has told LBC that if there are any abusive delegates at the Labour Party Conference, he will "sort them".
The BBC have hired a bodyguard for reporter Laura Kuenssberg for the conference in Brighton following threats made to her from the left wing.
LBC's political editor Theo Usherwood asked Shadow Chancellor John McDonnell about it and he condemned the abuse, saying anyone involved would immediately thrown out of the Labour Party.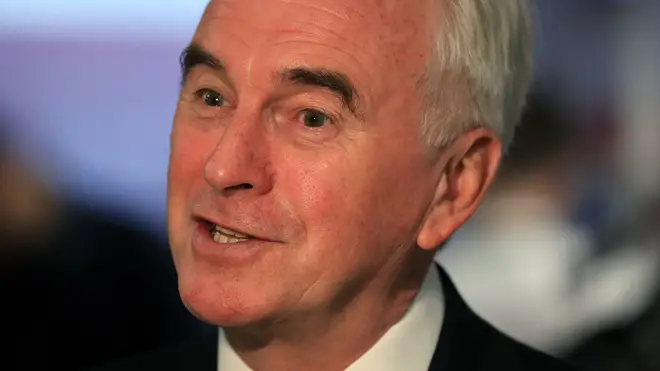 But he ended the interview by saying: "John McDonnell will sort them".
Speaking to LBC radio, he said: "Any intimidation against any journalist is unacceptable. I said to Laura that if there's anyone in the Labour party trying that on, let us know and they will be out this Labour party as fast as they can think.
"I'll tell you that I will protect journalists because that is what I've done throughout my life, in this country and abroad.
"I've said to Laura today, if you identify people, they will be disciplined by this party... John McDonnell will sort them."
Nick Ferrari said he was fully with the Shadow Chancellor until that final statement.
He responded: "This is extraordinary, because I completely support what Mr McDonnell was saying - and credit to the work he's done.
"And then there's a sort of threat of violence to counter violence - "I will sort them". That's almost taking violence to violence, isn't it?"