'I've not suffered Islamophobia in the Tory party': Minister hits back as PM orders probe
24 January 2022, 07:00 | Updated: 24 January 2022, 13:19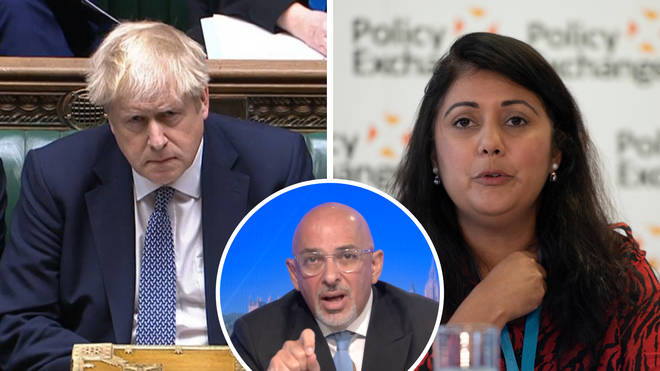 The Education Secretary has dismissed claims that the Tory party is "racist and Islamophobic", after the Prime Minister ordered an inquiry into claims Nusrat Ghani was sacked due to her "Muslimness".
Speaking to Nick Ferrari at Breakfast, Nadhim Zahawi said he had not "experienced anything like" Ms Ghani's claims during his time in the Conservative party.
The MP for Stratford-on-Avon said: "I've been in the party since the 80s, I've grown up in this party, I've been a volunteer, an activist, councillor for 12 years in Wandsworth, a member of parliament and minister, I have not experienced anything like that."
He added: "We are one team and we need to make sure that colleagues feel safe and valued and appreciated.
"And there is no room in my party for racism, islamophobia, anti-Semitism… None at all. It is unacceptable and it will not happen in my party."
It comes after Boris Johnson called for an inquiry into claims Tory MP Nusrat Ghani was sacked as Transport Minister due to concerns about her "Muslimness".
Read more: No10 police give 'damming evidence' to partygate probe as aides admit 'holding back info'
Read more: US orders families of Ukraine embassy staff to leave, amid fears of Russian invasion
The Prime Minister told reporters on a visit to Milton Keynes University Hospital he was taking Ms Ghani's claims "extremely seriously".
"We take these allegations extremely seriously, I took them very seriously when they were raised with me 18 months ago... very glad there's an investigation taking place now," he said.
"I can't say more, really, about it."
Asked if Chief Whip Mark Spencer could stay in post while the investigation was conducted, Mr Johnson dodged the question, saying: "This is something I take personally extremely seriously, I took it very seriously 18 months ago, we must wait and see what the investigation produces."
In a statement today, the PM's spokesperson said Mr Johnson has asked the Cabinet Office to conduct an inquiry into the allegations made by Ms Ghani.
"At the time these allegations were first made, the Prime Minister recommended to her that she make a formal complaint to CCHQ. She did not take up this offer," he said.
"The Prime Minister has now asked officials to establish the facts about what happened.
"As he said at the time, the Prime Minister takes these claims very seriously."
Ms Ghani told the Sunday Times, chief whip Mark Spencer, informed her she'd been sacked as a minister due to concerns about her 'Muslimness'.
In a sign of the tensions with the party, Mr Spencer - who admitted speaking to her - angrily denied her claims saying they were "completely false" and "defamatory".
Ms Ghani said she welcomed the Prime Minister's decision to order an investigation into her claims.
The Conservative MP for Wealden in East Sussex said: "As I said to the Prime Minister last night, all I want is for this to be taken seriously and for him to investigate.
"I welcome his decision to do that now.
"The terms of reference for the inquiry must include all that was said in Downing Street and by the whip.
"I look forward to seeing the terms of reference."
Read more: Nus Ghani Islamophobia claim 'lame' as 'it's not apparent' she is Muslim
Read more: Arctic blast to sweep UK with snow showers expected to hit, Met Office warns
Mayor of London, Sadiq Khan told LBC that it was "heartbreaking" to hear the allegations, condemning the Prime Minister for his delay in investigating.
He said: "I speak not as a Labour politician speaking about a rival party, I speak as a male of Islamic faith who is proud of being Mayor of the most diverse city in the world I was in contact with Nusrat over the weekend, she is a friend, and it is heart breaking to think that a proud Tory, and someone who has always been incredibly proud of being a conservative member of parliament, and she was so proud when she was made a minister-the first conservative Muslim minister- has been treated this way.
"I believe that victims, people who make allegations like Nusrat has done, should be taken seriously at the time they make them. Not 12 or 18 months later because the Sunday Times published an article about this and put pressure on the Prime Minister.
"I think it should have been investigated at the time she made the allegation. I'm pleased there now finally is [an investigation], it is really important the public has confidence that main stream political parties take allegations of racism seriously but also that all main stream political parties are welcoming places for Muslims."
Read more: Tributes paid to 'beautiful' Kennie Carter, 16, stabbed to death in Manchester
Read more: UK accuses Putin of plotting puppet regime in Ukraine amid fears of Russian invasion
Anneliese Dodds MP, Labour's Shadow Women and Equalities Secretary, reacting to the Prime Minister's announcement said: "This inquiry is welcome, but doesn't replace the need for an immediate investigation into whether the Chief Whip broke the ministerial code.
"After the government's shameful response yesterday to serious allegations of Islamophobia, we'll only know that the Conservatives are finally beginning to take this issue seriously if Michael Fabricant has the whip removed for his appalling comments.
"In the midst of a cost of living crisis, the government is once again having to spend its time investigating the behaviour of the PM and those around him.
"The Conservatives are incapable of leading the country."
In a statement on Sunday afternoon, Ms Ghani said she had thought about the matter every day since 2020, adding it made her wonder why she was in politics.
"Not a day has gone by without thinking about what I was told and wondering why I was in politics, while hoping for the government to take it seriously," her statement said.
"Those that have not had their identity and faith questioned cannot fully appreciate what it does to you.
"Now is not the time I would have chosen for this to come our and I have pursued every avenue and process I thought available to me, but many people have known what happened."
Ms Ghani, Conservative MP for Wealden, said she only wanted the Government "to take this seriously, investigate properly and ensure no other colleague has to endure this".
Read more: 'Kindest thing' for Boris Johnson's legacy would be for him to go, David Davis tells LBC
Read more: Fears over road rage incidents as Highway Code changes to come into force
She said: "When I told the Prime Minister in June 2020 what had been said to me in the Government Whips' Office I urged him to take it seriously as a Government matter and instigate an inquiry.
"He wrote to me that he could not get involved and suggested I use the internal Conservative Party complaint process.
"This, as I had already pointed out, was very clearly not appropriate for something that happened on Government business - I do not even know if the words that were conveyed to me about what was said in reshuffle meetings at Downing Street were by members of the Conservative Party."
The new inquiry comes just days before the results of the Number 10 partygate probe conducted by Sue Gray.
Boris Johnson is facing a series of allegations around gatherings said to have taken place at Downing Street while Covid lockdown measures were in place throughout 2020 and 2021.
The PM tasked senior civil servant Sue Gray to look into the events, with a final report expected to be on the way this week.
However, several No10 officials have already claimed they held back some of their evidence due to a "culture of fear" surrounding the probe.
Meanwhile, police working at No10 have also been involved in the ongoing investigation, according to the Telegraph.
The paper said officers who were on duty when a series of alleged lockdown-breaking gatherings took place have given testimonies about what they witnessed, with one source describing them as "extremely damning".