Who Are Cambridge Analytica? Everything You Need To Know
20 March 2018, 16:29 | Updated: 28 October 2019, 15:53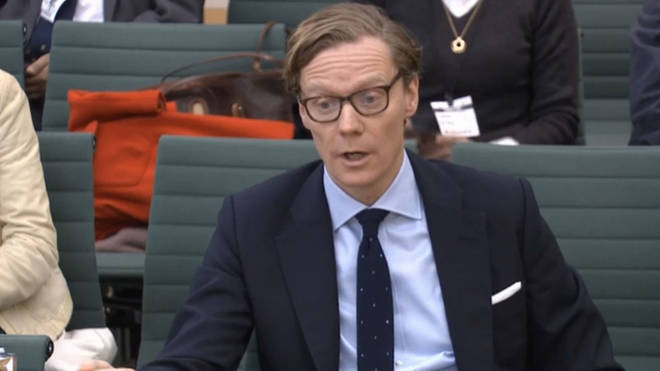 Cambridge Analytica is accused of illegally harvesting the personal data of 50 million Facebook users. But who are they, and why is this so significant?
It is not uncommon for political parties to hire consultants to help win elections.
But the British company described as "pivotal" in Donald Trump's presidential victory has come under fire after a whistleblower revealed to Channel 4 News it was behind a 'data grab' of more than 50 million Facebook profiles.
The chief executive of Cambridge Analytica has been accused of misleading a parliamentary committee on fake news, and subsequently asked to provide more information.
The chair of the culture committee, Damian Collins MP, has also written to Facebook's chief executive Mark Zuckerberg to formally request that he appear before the committee in an evidence session.
Who are Cambridge Analytica?
Cambridge Analytica are a British data firm behind Donald Trump's election victory.
It was created and initially ran by SCL Elections Ltd, and is based in London. It also has offices in Delaware in the United States.
Its current CEO is Alexander Nix.
Steve Bannon is a former vice president.
What has Cambridge Analytica been accused of?
Cambridge Analytica is accused of illegally harvesting the personal data of 50 million Facebook users.
Whistleblower Chris Wylie told Channel 4 News that Cambridge Analytica used an app, disguised as a personality survey, to get permission from Facebook users to access information.
Watch the video below to hear Chris Wylie explain how the app worked.
Who is Alexander Nix?
Alexander Nix is the chief executive of Cambridge Analytica.
Mr Nix has been accused of misleading a parliamentary select committee during an evidence session in February. The committee inquiry has requested Mr Nix to provide more information.
He has been labelled a "digital celebrity", and has spoken at many digital and marketing events.
A statement from the board of directors at Cambridge Analytica announced the immediate suspension of Alexander Nix, "pending a full, independent investigation" after comments made by him in secret recordings by Channel 4 News were broadcast.
What has Facebook got to do with Cambridge Analytica?
Facebook has been accused of facilitating the project in a technical sense.
The social media platform suspended Cambridge Analytica after the allegations were made, but the parliamentary committee has invited Mark Zuckerberg, or another senior executive from Facebook, to appear in person to provide evidence.
The Chair of the Digital, Culture, Media and Sport Committee, Damian Collins MP, said: "Data has been taken from Facebook users without their consent, and was then processed by a third party and used to support their campaigns.
It is not acceptable that they have previously sent witnesses who seek to avoid asking difficult questions by claiming not to know the answers."
How was Cambridge Analytica involved with the Trump campaign?
According to US federal election commission records, Donald Trump's election campaign paid Cambridge Analytica more than $6.2m.
Steve Banon, was a vice president of Cambridge Analytica before becoming Trump's Chief Strategist.
Was Cambridge Analytica involved in Brexit?
Speaking to the BBC in June last year, Alexander Nix said: "We had absolutely no involvement in the Leave campaign. We did not do any paid or unpaid work for Brexit."
But the company's director of programme development, Brittany Kaiser, spoke at a press event hosted by Leave.EU. She told PRWeek that the firm had been approached by the campaign.
In the BBC interview, Alexander Nix reiterated no work was carried out for Brexit by Cambridge Analytica.
How is Russia involved in the Cambridge Analytica row?
Alexander Nix, the chief executive of Cambridge Analytica, is also the CEO of SCL Elections Ltd (formally called Strategic Communication Laboratories).
SCL Elections Ltd, which created and initially ran Cambridge Analytica, has a commercial deal with a company called Global Science Research, who's director is Aleksandr Kogan.
Aleksandr Kogan received grants from the Russian government to research Facebook users' emotion.
What can the UK Information Commissioner do about the allegations?
The UK's Information Commissioner is to apply to court for a warrant to search the offices of Cambridge Analytica.
Elizabeth Denham is investigating the company over claims it used personal data to influence the US election.
In a statement on the Information Commissioner's Office website, she said: "We are investigating the circumstances in which Facebook data may have been illegally acquired and used.
"We are seeking a warrant to obtain information and access to systems and evidence related to our investigation."
Labour MP Ben Bradshaw told Shelagh Fogarty that this has "shaken Theresa May out of complacency."
What did Channel 4 reveal in their investigation?
An undercover investigation by Channel 4 News revealed how Cambridge Analytica secretly campaigns in elections across the world.
They spoke to whistleblower Chris Wylie, who worked at Cambridge Analytica, about how the firm harvested the personal data of 50 million Facebook users.
Channel 4 News filmed meetings with Cambridge Analytica executives in secret, where they talked about bribes, ex-spies, fake IDs and sex workers.
One senior executive was filmed saying: "Our job is to get, is to drop the bucket further down the well than anybody else, to understand what are those really deep-seated underlying fears, concerns.
"It's no good fighting an election campaign on the facts because actually it's all about emotion.
"It has to happen without anyone thinking that's propaganda because the moment you think that's propaganda, the next question is 'who's put that out?'
"So we have to be very subtle."
Alexander Nix was filmed saying: "Deep digging is interesting, but you know equally effective can be just to go and speak to the incumbents and to offer them a deal that's too good to be true and make sure that's video recorded.
"These sorts of tactics are very effective; instantly having video evidence of corruption and putting it on the internet."
Throughout the videos, the executives boasted about successes in over 200 election campaigns in many countries, including India, Argentina, the Czech Republic, Nigeria and Kenya.
Andy Davies, Channel 4 News Home Affairs Correspondent, spoke to James O'Brien about the revealing film.
What did Cambridge Analytica say in response to the allegations?
A Cambridge Analytica spokesperson told Channel 4 News: "We entirely refute any allegation that Cambridge Analytica or any of its affiliates use entrapment, bribes, or so-called 'honey-traps' for any purpose whatsoever."
They said: "We routinely undertake conversations with prospective clients to try to tease out any unethical or illegal intensions.
"Cambridge Analytica does not use untrue material for any purpose."